German President Joachim Gauck's Liberation Day address in the Netherlands raised some eyebrows both at home and in the Netherlands, though Gauck also found his share of support.

Passing through the streets of Breda, the southern Dutch city where the speech was held, one person refused to discuss the issue at all. Another found it odd to hear from a German on the holiday.

"I find it strange. So many people died back then, and now a German politician comes to mark this particular day," said Jürgen Reiter, a local restaurant owner.

'Looking ahead, not back'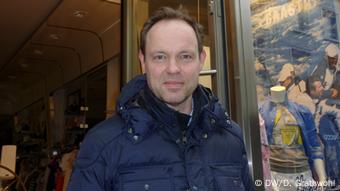 Lago Picard took a positive view of Gauck's decision to appear
Lago Picard, a shopkeeper in Breda, saw things differently.

"Only a small part of the German population wanted the war back then; the majority didn't. It's great that Gauck is here," Picard explained. An older woman agreed, saying she was a child during the war, and Liberation Day means a lot to her. Nonetheless, she was glad to see Gauck come to Breda to speak.

"Today's generation cannot do anything about it. You shouldn't look back but rather ahead - and make peace with everyone," she commented.

Several hundred people gathered in Breda's biggest church. They watched films featuring survivors of World War II, who talked about what they experienced during the liberation. They were joined by eye-witness accounts of other revolutions, including in the Arab world or in South Africa. The German President sat with them, clearly moved by the films.

Far from 'self-evident'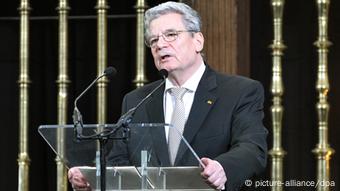 Gauck: It's hardly self-evident that I should deliver this address
In his speech, Gauck went straight for the question as to whether a German should be holding a speech in the Netherlands to mark the event.

"I was born in 1940, the year in which the Netherlands became the victim of Germany's politics of power and racial fanaticism. For Germans, and certainly for me, it's not self-evident that I should be standing with you here and talking to you," Gauck said.

The German president went on to speak about the victims of the Nazis in the Netherlands, including more than 100,000 Jews. He highlighted specific events from the past like the 1941 February Strike in the Netherlands.

"I read with immense admiration that stores remained closed, and that the workers on the docks, the factory workers, and the schoolchildren all stayed home in order to follow a call to strike by the outlawed communist party in the Netherlands - as a means of protesting the deportation of the first 400 Jews from the Netherlands into the Mauthausen Concentration Camp," Gauck said, calling the strikers important role models for people facing political oppression and crises of all kinds.

Praise for the resistance


Gauck went on to sketch the fates of a few of the Netherlands' famous resistance figures. They were people who helped others, often paying with their lives for their fight against the Nazis. Gauck said these people proved that an ethical response always remains on the table.
"In times of war and terror, we may not be able to make every choice, but even under such conditions people can defend human dignity - as history shows us."
Gauck praised the Netherlands' respect for freedom, calling it a foundation for European history.
"In our mutual European project, it is no longer a matter just of internal concern when freedoms are curtailed or citizens' basic rights are ignored."
Still a minefield?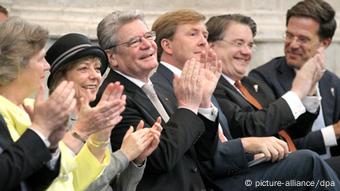 Gauck was seated next to Prince Willem-Alexander in Breda
Europe can be proud that it is able to turn to the European Court of Human Rights and the International Criminal Court in the Hague, Gauck said, adding, "The rule of law must triumph worldwide over rule through strength."

Ahead of the president's visit in Breda, the International Dachau Committee staged protests against his presence on Liberation Day, pointing to the fact that Germany has for decades not extradited Klaas Carel Faber, a World War II war criminal convicted in the Netherlands who then fled to Germany.

"A scandal," said Pieter Dietz de Loos, chairman of the International Dachau Committee, of the legal quarrels involving the now 90-year-old Faber.

But Gauck did not take that topic on in his speech. Perhaps that is because the German-Dutch relationship is still somewhat of a "minefield," as a German journalist in the 1950s once called it. In a German television interview after his speech, Gauck did not speak at length about the subject. As president, he noted, he is bound by Germany's legal system and hopes to have inspired trust in it.

"Germany has no interest in protecting war criminals," he said, noting also that the German Justice Department has looked for ways to reopen the case.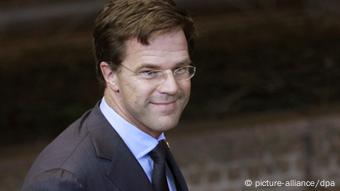 Prime Minister Mark Rutte welcomed Gauck's visit
Dutch Prime Minister Mark Rutte said it was very important for the German president to speak on Liberation Day, nearly 70 years after the Second World War.

"Especially this president with his past - that has a special significance," Rutte said.

Those in attendance for the speech offered praise for Gauck's words. Wilhelm Wielandseck, who experienced the liberation of Breda first-hand, found Gauck struck the right tone.

"I am happy that I was able to be here for this day," the 96-year-old said with a smile.

Author: Daphne Grathwohl / gsw
Editor: Charlotte Chelsom-Pill