French Interior Minister Claude Gueant said police had exchanged fire with the suspect, Mohamed Merah, after entering the apartment around midday on Thursday.

"At the moment when a video probe was sent into the bathroom, the killer came out of the bathroom, firing with extreme violence," Gueant told reporters at the scene. He said Merah was firing several guns at once.
"In the end, Mohamed Merah jumped from the window with his gun in his hand, continuing to fire. He was found dead on the ground," he said.
Two police commandos were injured in the shooting, he said. Their lives were not in danger.
Police started the raid on the house where the 23-year-old, who was of Algerian origin, was staying early Wednesday morning.
They negotiated with him for hours after he fired through the door as they tried to storm the apartment. The standoff lasted more than 32 hours.
Links with al Qaeda
Authorities had earlier identified the suspect in the killing of three soldiers and four civilians as a self-confessed al Qaeda militant who had spent time in Afghanistan and Pakistan. He apparently had a record of petty crime.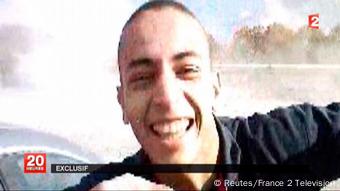 French television broadcast this image, which is thought to show Merah
Merah filmed all three attacks in their entirety, prosecutor Francois Molins said on Thursday.
Merah reportedly confessed to police that he had shot dead the three children and a rabbi at a Jewish school in Toulouse on Monday and the three paratroopers in Toulouse and nearby Montauban earlier this month.
President Nicolas Sarkozy, speaking after Merah was killed, vowed to crack down on the use of jihadist websites and other means of extremist indoctrination.
"Henceforth, any person who habitually consults Internet sites which praise terrorism and which call for hatred and violence will be punished under criminal law," he said in a televised address.
ncy,ng/dfm (AFP, AP, Reuters)