French President Nicolas Sarkozy said in a television interview on Sunday he plans to introduce a 0.1 percent financial transaction tax in France in the hope that other European Union nations would follow suit amid lingering divisions within the 27-member bloc over such a measure.
Although both German Chancellor Angela Merkel and Italian Prime Minister Mario Monti support a financial transaction tax in principle, they have both said that it should be implemented at the European level and not by individual nation-states. British Prime Minister David Cameron, however, strongly opposes the introduction of an EU-wide tax.
Sarkozy had said earlier in the month that France would unilaterally implement a financial transaction tax if the EU dragged its feet. The French president also said he would increase France's value-added tax by 1.6 percent to 21.2 percent in order to lower labor costs and make French companies more competitive.
Asked about the state of the eurozone's debt crisis, the French president said that "measures to stabilize the financial situation in Europe and elsewhere are in place," and that "Europe is no longer staring into the abyss."
Although Sarkozy has not officially announced his bid to run for re-election, he strongly hinted that he plans to face-off against Socialist candidate Francois Hollande in the April presidential election. There is a March 16 deadline to announce his campaign.
"I have a rendezvous with the French," Sarkozy said. "I will not shy away from it."
Merkel to support Sarkozy
German Chancellor Angela Merkel is to "actively support" Sarkozy in his campaign for re-election, her conservative Christian Democratic (CDU) party said in Berlin Sunday.
"The CDU chairwoman, Chancellor Angela Merkel, will actively support Nicolas Sarkozy with joint appearances in the election campaign in the spring," the CDU said in a statement.
The CDU is the ideological counterpart to Sarkozy's UMP, and the two leaders - often dubbed "Merkozy" for their close political cooperation - both have an interest in keeping each other in office.
However, it is rare for German political leaders to insert themselves into foreign elections.
CDU Secretary General Hermann Gröhe has already taken part in UMP campaign events. In a speech in Paris on Saturday, he said the policies of Sarkozy's Socialist opponent, Francois Hollande, would weaken Europe.
Hollande takes no offense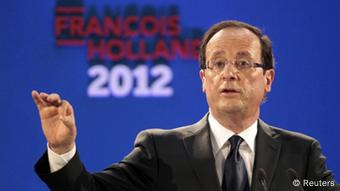 Socialist Francois Hollande leads Sarkozy in polls
Socialist candidate Hollande has steered clear of criticizing Merkel for meddling in foreign affairs, telling public radio France Info that Sarkozy "has the right" to invite Merkel to France to support him.
"If Ms. Merkel wants to come to France to defend the incumbent, she is totally free to do that," he said. "If Ms. Merkel campaigns for the incumbent, I'm still going to work well with her when I'm elected in May."
The first round of presidential elections in France is scheduled for April 22, with a potential runoff set for May 6. An opinion poll this week said Hollande would win some 56 percent of the vote in a runoff against Sarkozy.
Author: Spencer Kimball, Andrew Bowen, Nicole Goebel (AFP, Reuters, dapd)
Editor: Chuck Penfold