Being a cuddly toy is apparently just like any other job. The hours can be long and the repetitive stroking can get a little boring at times. And while the wages of eternal love and affection from one's human companion can make it all worthwhile, even the most dedicated comforter can do with a break every now and again.
But where does one go when the stresses and strains of constant petting and listening to people's problems get to be too much? Well, it seems that Germany would be the best bet for a stuffed animal looking to let its faux hair down.
Germany is rapidly becoming the holiday destination of choice for frazzled fake furry friends. Companies offering getaways for tired teddies and burnt-out bunnies have spread across the country like wildfire in a stuffing department. While it is not a new trend, the cuddly toy vacation business is now booming.
The niche market in Germany initially took off on the back of successful teddy tour operators in Munich and Frankfurt, but now companies all over the country are providing accommodation and activity plans geared to the character and personality of the specific toys.
Travel plans tailor-made
World travel can be a real eye-opener for teddies
Furry frogs can enjoy fishing and diving experiences at the Lake of Constance while loveable moles, presumably, could take part in potholing expeditions in the Swabian Alps. Teddy bears, however, have had their outdoor choices reduced in Bavaria after the killing of live brethren Bruno last summer.
The latest cities to latch on to the holidaying needs of the cuddly classes are Hamburg and Berlin. Teddy Tour Berlin offers three categories for the discerning stuffed toy: compact, exclusive and deluxe.
The more money you spend, the more your plush pal can enjoy the German capital. The prices range from 75 euros ($98.40) for a compact tour for a German toy to 140 euros ($183.70) for an animal from outside western Europe taking the full deluxe tour of the city's landmarks.
Hamburg popular with night-owls and rabbits
In Hamburg, woolly wanderers can enjoy a chauffeur service around the Hanseatic port before taking in a bit of rock-'n'-roll history at the Star Club, where the Beatles played, and heading to the seedier side of town for a night out on the city's notorious Reeperbahn. This offer is particularly popular with the rabbits.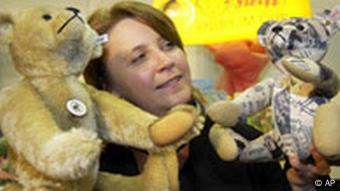 The teddies on tour are in good hands
"We offer a complete visitor's program," Hamburg tour guide Niklas Knippschild told German press agency DPA. "I think this is a first-class idea. Hamburg needs a tour for teddies." His business partner, Yvonne Werny, assured potential customers that their much-loved companions would be in good hands. "We treat those animals that are entrusted to us very carefully," she added.
Toys who go for the Hamburg experience come home with a photo CD of all the places they have visited, a popular extra within the price of many tour packages across Germany. Many provide a detailed photo album of the holiday as a leaving present before the animal has to return to a life of stroking and nuzzling.