Fraport said the number of passengers travelling through Frankfurt Airport in November had dropped 7 percent to 3.9 million from the same month last year.
Aircraft movements shrank by 3.4 percent to 38,733 takeoffs and landings, while only the number of intercontinental passenger flights increased by 0.5 percent.
The operator said passenger levels at Frankfurt -- Europe's second busiest hub after Paris's Charles de Gaulle -- from January to November had also dropped, albeit by only 1 percent to 49.7 million people.
"In such times of economic uncertainty, people watch their purse strings more closely. That runs the whole gamut from large corporations to small businesses and of course consumers," said Fraport's international spokesperson Robert Payne.
"This is just a temporary glitch in the overall scheme of things. Our experience over the years shows that whatever the crisis was, as you come out of these downturns there's much stronger growth ahead. We're expecting that to happen this time around … we'll have to see how things develop in 2009," he said.
London airport interest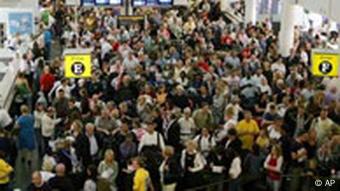 Ferrovial was made to sell off Gatwick after several management shortfalls
In September, Fraport announced its interest in a stake in London's Gatwick Airport, which was put up for sale by the Ferrovial Group's British airports operator BAA.
Payne said Fraport had not yet acted on its interest, but that the financial crisis would not pose a barrier to such a deal.
"Each country, each airport is unique and in some cases, if we are interested, then it's perhaps strictly on a management contract basis … so some projects like that have nothing to do with the economic crisis," he said.
"Nothing has been tabled regarding the London airports so it's difficult to even say if we would explore those in any more detail. We'd have to see what the terms of reference are, which airports are actually offered and when."