The first urban cable-car transport system in France was opened for service on Saturday in the northwestern city of Brest, with the country's environment minister, Segolene Royal, saying she hoped other cities would soon adopt this "clean, safe" method of transport.
"Transport via cable is really the transport of the future, especially in large cities with too much traffic," she said after taking the trip across the Penfeld River that divides the city in two.
"It is a big first nationally, but also a big international first, because it is the first time that a cable-car system of these dimensions and using this technology has gone into operation," she added.
She also praised the environmental advantages of the system.
"I have just returned from the COP22 (UN Climate Change Conference in Marrakesh, Morocco), and cable-car transport in an urban milieu is the solution of the future to reduce pollution on the planet," she said.
The cable car will be able to carry some 1,200 passengers per day in its two gondolas, which traverse the 420-meter (459-yard) stretch over the river at a height of 70 meters in just three minutes. It is hoped that the system will relieve the current overcrowding of the city's two bridges at rush hours.
Royal and Brest mayor Francois Cuillandre are among the first to have taken the cross-river trip
Special technologies
Brest's cable-car system differs from the ones generally used in that the two gondolas do not pass by each other laterally, but cross one over the other. It also employs a special technology that darkens the windows in the gondolas when they approach private homes so as to preserve residents' privacy.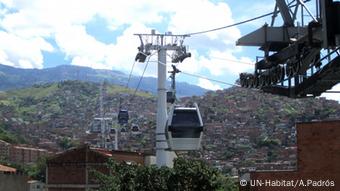 Medellin in Colombia also has an urban cable car
The cost of building the system was 19 million euros ($20.11 million), making it considerably cheaper than the construction of another bridge, which would have set the city back an estimated 30-60 million euros.
Other cities around the world with urban cable-car systems include London, Barcelona, Medellin, Rio de Janeiro and New York.
The French cities of Orleans, Toulouse and Grenoble, among others, are also considering building cable cars. Up to now, such systems have been installed only at tourist locations in France.
tj/jm (Reuters, AFP)