Forgeard, 61, sold 162,000 EADS shares in March 2006, shortly before the official announcement that delivery of the A 380 superjumbo aircraft manufactured by EADS subsidiary Airbus would be delayed and the stock lost more than 30 per cent of its value.
Forgeard made a profit of some 2.5 million euros (currently about $3.95 million) on the sale. In addition, his children sold 128,000 EADS shares several days after he did, and made more than 4.2 million euros.
Forgeard was taken into custody after being questioned Wednesday by investigators trying to ascertain if he carried out the transactions on the basis of privileged information.
Forgeard says he's innocent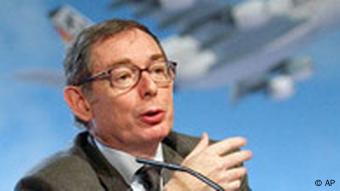 Forgeard has denied the charges against him
In November 2006, the French markets watchdog AMF opened an inquiry into the sales of the shares by Forgeard and 16 other EADS and Airbus executives who exercised stock options on some 1.7 million EADS shares before June 13, 2006, for a gross profit of about 20 million euros.
Earlier this year, Forgeard said he and the other executives were innocent, noting that "suspicions are not proofs." However, he admitted that he should not have sold the shares when he did.
The problems with the A 380, the world's largest commercial aircraft, provoked a crisis in EADS and Airbus, and led to Forgeard being forced to step down. He left the company with a "golden parachute" worth 8.55 million euros, which caused a furore in France.
Forgeard was head of Airbus from April 1998 until June 2005, and EADS co-CEO from June 2005 until July 2006.