The former CEO of the regional German bank BayernLB denied accusations made by German prosecutors after they raided the bank's Munich offices Wednesday.
"This case is technically and factually baseless," said Werner Schmidt, who was the bank's chief executive two years ago when the Bavarian bank acquired the Austrian unit Hypo Group Alpe-Adria (HGAA).
BayernLB is the second-biggest regional bank in Germany. It paid 1.6 billion euros for 67percent of HGAA's shares in May 2007. German prosecutors claim Schmidt, who left the bank in 2008, knowingly paid too much for the deal.
Criticism from state representative
In support of Schmidt, then-Bavarian Finance Minister Kurt Faltlhauser told the German newspaper Sueddetusche Zeitung that he considered the deal to be fair even today.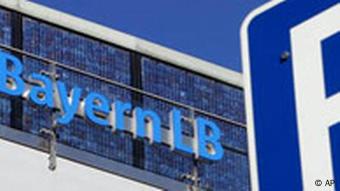 State prosecutors say BayernLB paid too much when it acquired Austrian bank HGAA
But Eike Hallitzky, a Green party member of the Bavarian state parliament, said Schmidt may have personally profited from the deal.
Hallitzky also claimed on German radio that Schmidt and HGAA funds manager and majority shareholder Tilo Berlin had been friends, and that if Berlin's promotion to CEO of the new subsidiary had anything to do with their friendship, it would be scandalous.
Schmidt is currently the only suspect in the investigation according to prosecutors, who also searched his private residence and HGAA offices in Austria on Wednesday.
BayernLB lost 5.2 billion euros last year, and while it received a 10 billion euro bailout from the Bavarian government, it still may not have balanced all its debts for 2009.
Its HGAA subsidiary has also been struggling with the economic crisis, receiving upwards of 700 million euros from the Austrian government in 2008 .
acb/ap/Reuters
Editor: Sam Edmonds