Ingo Schulze, Uwe Teilkamp, Dietmar Dath, Sherko Fatah, Iris Hanika and Rolf Lappert are the six writers whose work will now come under closer scrutiny by the jury.
The list is not representative of "any uniform thematic or stylistic line," said jury spokesman Rainer Moritz in Frankfurt am Main on Wednesday, Sept. 17. Rather, it's an indication of the "rich diversity of very readable novels submitted by German-language authors in 2008."
All of the nominees are between the ages of 39 and 49; in other words, all part of the middle generation of current authors.
161 titles reviewed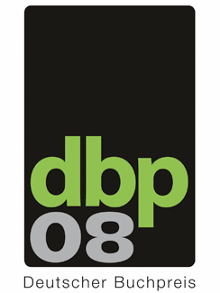 The winner will be announced at the beginning of the Frankfurt Book Fair
The seven jury members looked at a total of 161 books, and after much discussion, came up with the shortlist, Moritz said.
"The judges wrestled over the shortlist with dedication and considerable passion," he said. "There were arguments, advocacy, dismissals and defense - all in an extremely stimulating, constructive way, just as it should be for an open, critical literary analysis."
Two of the finalist titles are books that paint a portrait of society in the crumbling German Democratic Republic: Teilkamp's "Der Turm" and Schulze's "Adam und Evelyn."
In Dath's "Die Abschaffung der Arten" it's the animals who talk and act after the world's demise. In Fatah's "Das dunkle Schiff," a former jihadist flees to Germany from Iraq. With "Nach Hause schwimmen," Lappert has delivered a coming-of-age story, while Hanika's "Treffen sich zwei" is the only love story among the finalists.
"Their works are shaping the discussion about current trends in German literature this fall among readers, critics, publishers and booksellers -- a discussion that, through the German Book Prize, has grown in intensity also in literary circles abroad," said Gottfried Honnefelder, chairman of the German Book Prize Academy.
Ceremony on Oct. 13
With the German Book Prize, the German Publishers and Booksellers Association recognizes the best German-language novel of the year. The titles need to have been published between October 2007 and September 2008. The awards ceremony will be held on Oct. 13 at the opening of the Frankfurt Book Fair. The winner receives 25,000 euros ($36,200) while each of the five finalists receives 2,500 euros.
Some famous German authors didn't make it onto this year's shortlist -- writers such as Martin Walser, for example, or Peter Handke, who voluntarily refused a nomination at the beginning of September. He wanted to "step back for the good of other, mainly younger authors," he said in a letter to the German Publishers and Booksellers Association.