It was an unfamiliar sight when polls opened across Fiji on Wednesday. It's been nearly a decade since the Pacific island nation's last election, meaning 20 percent of Fiji's 900,000 people are voting for the first time.
The country has suffered four coups since 1987. The latest, in 2006, has seen former army chief Voreqe "Frank" Bainimarama in power ever since.
Bainimarama, who is a prime minister candidate with his Fiji First party, is expected to garner the most votes. Whether his party will win an outright majority remains unclear.
New direction
Wednesday's election is seen as an important step in moving away from the "coup culture" that has plagued Fiji, located around 3,200 kilometers (2,000 miles) east of Australia, in recent decades.
Fiji's tenuous political environment has in part been driven by the uneasy relationship between ethnic Fijians and Indian Fijians, who descend from sugar plantation workers sent to the country during the British colonial era.
That ethnic tension was seized upon by Bainimarama to justify his coup in 2006. While his rule brought stability to the country, he imposed media censorship, tore up the constitution, and sacked the judiciary.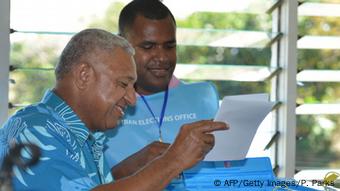 Bainimarama cast his ballot at a school in the capital, Suva
Restrictions have been relaxed in recent years, but last month rights group Amnesty International accused Bainimarama of ruling over a "climate of fear" and skewing election results in his favor.
Bainimarama said he was confident of winning Wednesday's election, which extended full voting rights for the first time to Indian Fijians, who make up 40 percent of the population.
"We've been through a lot in the last eight years … today is very important for Fiji, this is the first time we are voting without any discrimination," he told reporters. "Before you used to queue up to vote in different races, that is now gone. Today is about bringing democracy back to Fiji."
Complicated poll
Nearly 100 international observers traveled to the country for the vote. While the poll presented many logistical headaches, election monitor and former New Zealand lawmaker Wyatt Creech said there did not appear to be any deliberate or fraudulent tampering or interference.
"I have to emphasize that this is an extremely challenging place to hold an election," he said. "There are places with poor communications, poor roads, villages that are very remote, and places where English is not strong."
Fiji's 590,000 registered voters chose from almost 250 candidates for the country's 50-seat parliament, established under a constitution adopted last year. A government must be formed within 17 days of the vote, meaning a coalition with minor parties may be necessary.
Election officials will not announce formal results for seven days, but preliminary returns could be available by early Thursday local time.
dr/es (Reuters, AFP, AP)