Corruption investigations, legal costs and scared off sponsors all added to the record loss in turnover suffered by football's world governing body.
Accounts published by FIFA on Friday showed a loss of $369 million (348 million euros) for 2016, up from a shortfall of $117 million in 2015. The organization admitted that losses for 2017 are expected to be even higher.
In its 116-page financial report, FIFA said: "It goes without saying that stagnant global trade and subdued investment, combined with investigations surrounding previous FIFA officials, have put pressure on the organization's overall revenue generation."
In 2015, authorities both in Switzerland, where FIFA has its headquarters, and the United States launched a series of probes into current and former senior FIFA officials amid allegations of racketeering, money laundering and fraud.
However, FIFA estimates a rebound of some $1 billion in profit for 2018 with income expected to pour in from TV broadcast deals for the World Cup in Russia.
Legal costs doubled, at more than $50 million
The accounts show that FIFA booked $502 million income and reported $893 million in expenses. Net losses ultimately totaled $369 million. None of its reported income came from European broadcast rights deals with, which have been backloaded to 2018.
Accounts showed legal bills in excess of more than $50 million for 2016 (more than double the year before) as part of the US and Swiss investigation into bribery and mismanagement.
However, the largest expenditure increase comes on the back of new president Gianni Infantino's pledge to increase grants to national, regional and continental soccer bodies worldwide.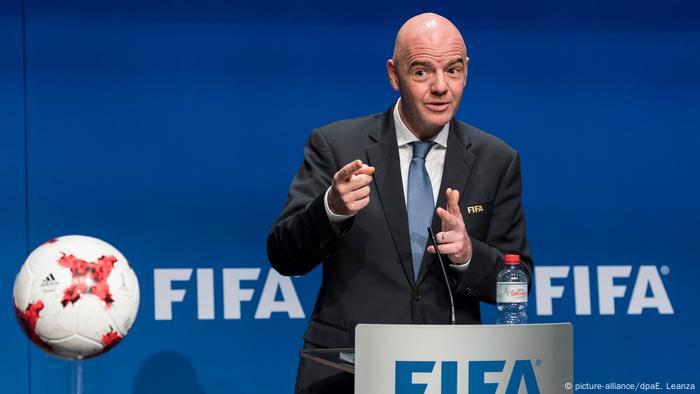 Despite suffering record losses, FIFA's President Gianni Infantino still pocketed a cool $1.5 million in 2016.
Despite the losses, Infantino said that increased payouts to associations would continue under his tenure to further develop the sport. "We need to ensure that every bit of revenue is well invested in the game," the FIFA president said in a statement. "The FIFA Forward Development Programme is an embodiment of this commitment."
Infantino, meanwhile, was paid an income of $1.5 million - a considerable sum but less than half the amount pocketed by disgraced former President Sepp Blatter when he was at the helm. FIFA Council members enjoyed a collective payment increase of around $5.6 million.
Also attributed to the losses were "ill-considered" investments made under Blatter. These included the World Football Museum and an adjoining four-star hotel in central Zurich. The museum reportedly made a loss of $50 million, including a number of one-off costs.
FIFA confident despite sponsorship holes
FIFA said that it will stick to its revenue projection of $5.56 billion for the four-year cycle financial cycle tied to the 2018 World Cup in Russia. Alongside broadcast deals, much of that income is expected to come through sponsorship agreements.
While FIFA still enjoys lucrative partnerships with the likes of Adidas and Coca-Cola, a number brands - including Sony, Continental and Emirates - severed ties as the extent of FIFA's endemic corruption came to light in 2015.
Trust in FIFA will be tested over the coming year, as 24 of the 34 sponsorship slots for the 2018 World Cup still need be filled. The tournament kicks off in just 14 months.
dm/msh (AP, Reuters)