The permanent and definitive ceasefire went into effect at 12:01 a.m. Monday (0500 UTC) and ended a 52-year-old war between the Colombian state and Revolutionary Armed Forces of Colombia (FARC), after the two sides agreed last week on a historic peace agreement.
FARC supremo Rodrigo Londono gave the ceasefire order from Havana, where the two sides conducted four years of peace negotiations.
"Never again will parents be burying their sons and daughters killed in the war," said Londono, who is also known as Timochenko. "All rivalries and grudges will remain in the past."
Colombian President Juan Manuel Santos announced on Friday the military would cease hostilities on Monday.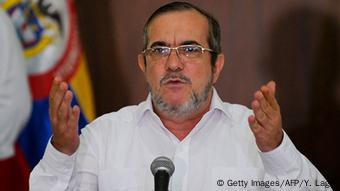 FARC leader Rodrigo Londono
"This means nothing more and nothing less than the end of the FARC as an armed group," Santos said, adding that the final peace deal would be signed in Colombia. "The children and youth of our country have never known a single day without the violence of the conflict. Neither have the adults."
FARC declared a unilateral ceasefire in July 2015. But Monday's ceasefire is the first time both sides of the conflict have pledged to permanently end fighting that has claimed more than 250,000 lives and displaced millions of people.
The fighting over ideology, territory and political differences involves FARC, the military and right-wing paramilitary forces.
The FARC and the government are expected to sign the peace accord between September 20 and 26. Then Colombians will vote on the peace agreement in a referendum on October 2. As many as 34 million people are eligible to cast ballots.
The peace agreement envisions some 7,500 FARC guerillas going to collection points to lay down their arms under UN supervision within six months. Before the demobilization, FARC leaders, including the 29-member central committee, will convene one last time from September 13-19. It will then become "a legal political movement," it said in a statement on Saturday.
Under the peace accord, FARC's yet-to-be-named political movement will be guaranteed five seats in both the lower house and senate. Another 16 seats will be reserved for activists in rural areas neglected by the state. Existing political parties will be banned from these areas.
Both arrangements will last until 2026, at which point FARC's political movement will have to prove its political strength through the ballot box.
Other parts of the accord deal with rural reform, combating drug trafficking, compensation to victims and transitional justice.
The deal does not include a smaller leftist group, the National Liberation Army (ELN). In March, Colombia announced it would hold peace talks with the ELN, but the rebels have failed to meet preconditions to release all hostages and cease kidnappings.
cw,jar/kl,jm (AFP, AP)