The anti-foreigner party was expected to re-elect its leader Udo Voigt and affirm its extreme nationalist policies.
Voigt told supporters the government had failed in 2003 in a law case to ban the NPD and was now trying to undermine the group by "drying up" its income. He said a fine for filing fraudulent accounts had dealt a "serious blow" to the party.
The NPD has seats in two of Germany's 16 state assemblies, but has never won seats at federal level because of a rule blocking representation to groups with less than 5 per cent of the national vote.
About 2,000 people attended two anti-NPD rallies in Bamberg.
After lethal clashes between the opponents on May 1 in Hamburg, riot police kept a close eye on about 450 militant leftists who marched into Bamberg from its railway station to confront the NPD. Police detained 19, but there was no major trouble.
Bamberg mayor calls for peaceful protests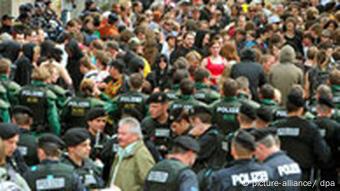 Hundreds of protestors gather in Bamburg
Mainstream groups attended a "festival for democracy" on Bamberg's main square, where Mayor Andreas Starke said his city had vainly sought by legal means to prevent the NPD conference taking place there. He called for anti-NPD protests to be peaceful.
"This party stokes hate and prejudices, it's racist and anti-Semitic. We, on the other hand, avow ourselves to the values of the Constitution, to freedom, tolerance and human rights," he said.
Anti-subversion agencies who monitor the NPD estimate its card-carrying membership has grown recently by 1,000 to 7,000 as Germany neo-Nazis rally to it. The NPD denies that it is neo-Nazi. German law outlaws neo-Nazi organizations.
In the northern German port city of Kiel, police counted 1,200 demonstrators Saturday at an anti-NPD rally. The protesters were alarmed by poll data suggesting the NPD would win some seats in the Kiel city council in an election on Sunday.