The Libyan media outlets still in existence are heavily censored or can only report on a very limited local area. Both Libyans and international media organizations hardly have access to information from the country itself. This situation prompted the idea for an independent news agency with an extensive network of correspondents across Libya. The LCNA has been developed within a € 2.7 million EU-funded project which is aiming at the overall support of Libyan journalism and media. On November 19, representatives of the European Union and DW Akademie will officially hand over the reins of the LCNA to its editor-in-chief, Tarek Al Huni. The event will take place at the Representation of the State of North Rhine-Westphalia.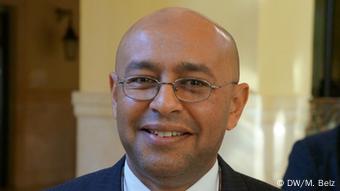 Tarek Al Huni, LCNA's editor-in-chief
Nataliya Apostolova, EU Ambassador to Libya, explained why the EU and DW Akademie decided to set up the LCNA: "For a conflict region like Libya, it is vital that we get independent, unbiased and reliable information from the country itself."
"The LCNA is a very important tool to help re-establish a more objective picture of Libya. Above all it will help the Libyan people to once again receive reliable information about their own country," said the director of DW Akademie, Christian Gramsch.
"Libyans need information about Libya, from Libyans. This is absolutely vital for a new, democratic beginning", confirmed Tarek Al Huni, editor-in-chief of the new agency LCNA, adding: "My team in Tunis and our 100 reporters in all parts of Libya thank the EU for funding our project and the DW Academie for the professional training and technical development of the LCNA."
The official hand-over means that the LCNA will become now fully independent and its activities will not be financed anymore by the EU. In the future the LCNA will finance itself via a system of subscriptions, and deliver reports to national and international news agencies and media outlets.