The European Parliament approved the European Commission for its next five-year term Tuesday, clearing the way for the 27-member body to take office.
The new EU executive, with one member from each EU state, was voted in with a clear majority with 488 in favor, 137 against and 72 abstentions. The overwhelming approval gives the commission "a real mandate for boldness," said European Commission President Jose Manuel Barroso after the vote.

Barroso has said the economy is his top priority. "Over the next five years, I hope that this commission will play a key role in bringing Europe out of the crisis with a competitive economy which provides our citizens with sustainable growth and prosperity."
Budget clashes ahead
Also among the commission's priorities are financial reform, climate change and an overhaul of the EU's 130-billion-euro ($178-billion) budget.
About a third of that budget funds the EU's farm policy, which primarily benefits France. French officials are eager to defend the agricultural spending against critics like Britain, which wants to see the budget trimmed.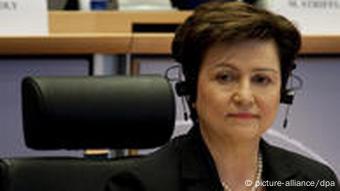 Kristalina Georgieva has found support for her nomination as Bulgaria's commissioner
Approval of the incoming European Commission was originally expected in October, when the previous commission's mandate expired. But delays in the ratification of the bloc's sweeping Lisbon Treaty reforms as well as fierce opposition to Bulgaria's nominee for humanitarian aid commissioner pushed the vote back three months.
The nominee, Rumiana Jeleva, faced serious criticism from some European parliamentarians who questioned her financial affairs and alleged her husband had ties to the mafia.
Bulgaria's replacement nominee, World Bank Vice President Kristalina Georgieva, secured parliamentary approval on Wednesday.
New positions
Another nominee who faced skepticism was former EU trade commissioner Catherine Ashton, now set to become EU high representative for foreign affairs.
Ashton's position was created by the Lisbon Treaty in an effort to increase the EU's sway in global politics, but critics say her relatively low profile and lack of foreign policy experience make her a less-than-ideal candidate. Ashton is also set to become the European Commission's vice president.
Meanwhile newly appointed EU Council President Herman Van Rompuy, whose job was also created by the Lisbon Treaty, emerges from the shadows on Thursday as he hosts a summit of EU leaders to address the economic crisis.
cmk/acb/dpa/AFP/Reuters
Editor: Chuck Penfold