Pirates off the coast of Somalia captured another ship on Wednesday, Nov. 19. It is the third vessel since the spectacular hijacking of the Saudi supertanker "Sirius Star" last weekend.
Although NATO, European and US vessels are stationed in the region, they are helpless in effectively battling the increasing problem of piracy -- though single operations are sometimes successful.
The German navy, for example, said Tuesday one of its frigates had foiled attacks on two ships in the Gulf of Aden, using a helicopter to chase off pirates who fled in their speedboats.
Larger EU mission launched
Pirates usually travel in speedboats
NATO has four ships on patrol in the waters off Somalia, with two protecting UN food aid convoys to the troubled Horn of Africa country. The mission, NATO's first-ever against pirates, ends in mid-December when the more extensive European Union operation "Atalanta" begins.
"The EU presence will be bigger and more designed for the mission," said NATO spokesman James Appathurai.
According to the EU, the operation will primarily protect vessels of the World Food Program and other unarmed merchant ships. Up to six European warships will be present, supported by air patrols.
Their mandate allows them to use force if necessary against pirates.
Impossible to monitor Somalian coastline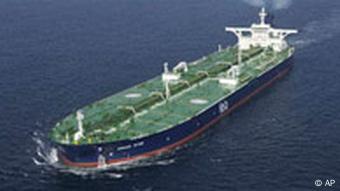 The hijacked Sirius Star is carrying oil worth $100 million
Given that the pirates in the region are well-armed with grenades, heavy machine guns and rocket-launchers, most foreign navies have steered clear of direct confrontation once ships have been hijacked, for fear of putting hostages at risk.
Somalia's vast coastline is also virtually impossible to monitor completely, even for modern warships.
The hijacking of the "Sirius Star" occurred near the border to Kenya, hundreds of kilometers south of the EU-NATO mission's operational area. She is the largest vessel ever seized and is carrying 100 million dollars of Saudi oil. The supertanker is now at anchor off Puntland, a breakaway northern state in Somalia. NATO said it had no intention of intervening or rescuing the ship and crew.