Over the past months, the European Commission has been debating possible self-regulatory measures within the food industry to curb what is rapidly becoming an alarming obesity problem among the bloc's children.
Markos Kyprianou, the EU Commissioner for Health and Consumer Affairs warned makers of junk food – those products high in sugar, salt or fat content -- that unless they agree to voluntary reductions in advertising to children and clear labeling of their products, the EU executive is prepared to force them into it with stiff new regulations.
"We made fun of the Americans in a way. We used to regard obesity as only and American problem. Today obesity is on the rise in Europe, especially among children. I am concerned that advertising of foods high in fat, sugar, and salt should not target vulnerable consumers like children," the commissioner wrote in Thursday's Financial Times and vowed to tackle the issue during his time in office.
Europe's expanding girth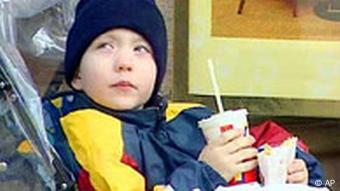 A taste for junk food begins early
Given the evidence collected across the 25-member union, pro-active measures are desperately needed, especially where children are concerned. According to a recent report by the British Parliament, more than 50 percent of British children will be obese by 2020. In Italy 36 percent of nine-year-olds are overweight; in Spain 27 percent of children and youth have too many extra pounds. In southern Europe, one in three children are clinically obese.
Moreover, the EU estimates that up to 8 percent of national health budgets are spent tackling what is quickly turning into an epidemic.
In order to curb European eating habits, Kyprianou said cooperation with the food industry was crucial. Speaking to the FT, the newly inaugurated commissioner said the food producers themselves are the fastest and most effective means to cutting out the fat.
In March, the Commission is expected to announce a new arrangement with the food industry that would outline self-regulatory targets to go into effect by the end of the year. In addition to "clear labeling understandable to a consumer who doesn't have a PhD in chemistry," Kyprianou said he wanted to see a significant reduction of the amount of junk food advertising directed at children.
Targeting children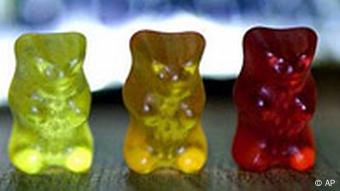 Which kid can resist the sweet jelly taste of plump Gummi Bears?
Children are a hugely attractive target market for advertisers, no matter how many restrictions are imposed on what they can and cannot market. According to Nielsen Media Research in the UK, which examined monthly estimates from TV stations, the estimated total amount of money spent by the top 10 food advertisers in 2003 was €31.8 million ($41.4 million), almost a 40 percent increase on the previous year.
Ofcom, an official regulator of the EU, said that 70 percent of children are exposed to junk food ads between 6:00pm and 9:00pm, during the so-called family time slots. Kyprianou said he wants junk food ads banned completely during these prime time slots.
"The signs from the industry are very encouraging, very positive. But if this doesn't produce satisfactory results, we will proceed with legislation," he said.
In Britain, where such calls to ban junk food ads aimed specifically at kids has already been embraced by the government in a recent "white paper," Public Health Minister Melanie Johnson, said her country would push for faster results in the area when it takes over the rotating EU presidency in June.