Dmitry Medvedev said Russian forces would pull back to pre-conflict positions by October 1, when replaced by 200 European monitors in the buffer zones around Georgia's breakaway regions of South Ossetia and Abkhazia.
Under Monday's agreement, Russia is also due to pull out in a week's time from outstanding checkpoints between Sinaki and the Black Sea port of Poti, deep inside Georgia.
"Russia has obtained a guarantee from the European Union and France which holds the EU presidency, on the non-use of force by the Georgian side," Medvedev said at a joint press conference after meeting with EU negotiators.
Nicolas Sarkozy, whose country holds the rotating EU presidency, said he had given Medvedev a letter from Georgian President Mikhail Saakashvili, vowing to abstain from any use of force.
Difficult negotiations still ahead
Both leaders said international peace talks would start October 15 in Geneva. But negotiations look set to be fraught.
Despite the accord, Moscow is refusing to reverse its recognition of the independence of Georgia's two separatist regions of South Ossetia and Abkhazia. And Medevev attacked Georgia for its "hair-brained" assault on Ossetia, which he said had been launched with the direct or tacit support of the United States.
"Russia is fully complying with the settlement plan, but I can't say the same for the Georgian side that is actively trying to re-establish its military positions, and the United States, unfortunately, is supporting this," Medvedev said.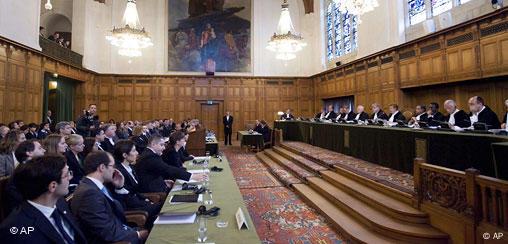 Monday also saw the first of three days of hearings brought by Georgia against Russia
Meanwhile, Georgia was accusing Russia before the UN's highest court in The Hague of conducting a long-running campaign of "ethnic cleansing" in Georgian territory. Russia defended its actions before the International Court of Justice (ICJ), saying a Georgian assault on the rebel region of South Ossetia last month left it no choice but to send in tanks and troops.
Thaw between EU and Russia?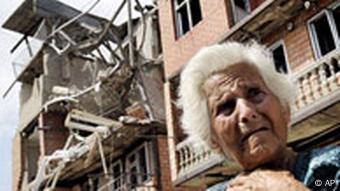 Hundreds are estimated to have been killed on both sides
After talks with the Russian president, Sarkozy said negotiations on a new EU-Russia partnership could resume "as early as October" if the measures were enforced. The meetings had been originally scheduled for September, but were frozen until Moscow pulls out of Georgia.
"Things are perfectly clear: we want partnership and we want peace," said Sarkozy.
His sentiments were chimed by the Russian president. "Our country values the European efforts ... we do not want a deterioration of our relations," Medvedev told Sarkozy, who was also accompanied by EU foreign policy envoy Javier Solana and European Commission President Jose Manuel Barroso. In an exercise of shuttle diplomacy after Russia and Georgia refused to take part in direct talks, the three left for Tbilisi to meet with Georgian President Saakashvili immediately after the talks.
The talks, launched in July, were aimed at agreeing a new framework for EU-Russia ties. The existing accord dates from 1997, when Russia was still suffering economically from the break-up of the Soviet Union.
Washington is sticking to a firm line, however, with US President George W. Bush taking a long-awaited decision to postpone talks with Russia on a nuclear agreement.
"The president intends to notify Congress that he has today rescinded his prior determination regarding the US-Russia agreement for peaceful nuclear cooperation," a statement said.
Russian troops entered Georgia on August 8 to push back Georgian forces attempting to regain control of South Ossetia, the Moscow-backed region that broke away from Tbilisi in the early 1990s.