At a summit in Brussels on March 20, the EU member states agreed on an extra 75 billion euros ($101.5 billion) for the International Monetary Fund (IMF), as well as a further 25 billion euros in emergency credit for Eastern Europe. With that, the union appeared to have aligned the position it would take at the upcoming G20 summit in London on April 2.
Going by the words of French President Nicolas Sarkozy at the latest EU summit, it would seem that the European Union is marching to London in step as one unit.
"Everyone agrees on tax havens and a blacklist, on hedge funds and executive pay, on clear balancing rules for banks and the need for regulation," Sarkozy said.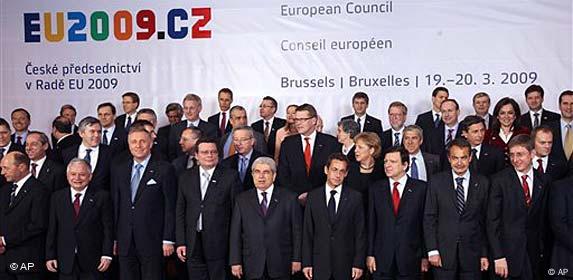 Everybody seems united, at least for the photo op
But many of the details of these issues continue to be up for debate in the EU, and will have to be voted on in London together with the other participants. The issue of tax havens is one such example.
With his call for greater cooperation to combat tax evasion, German Finance Minister Peer Steinbrueck prompted a hefty response not just in Switzerland, but also in EU states such as Luxembourg and Austria. The preliminary result of this internal European conflict is that no EU country should be put on the blacklist of uncooperative states.
Crisis management
When it comes to management of the economic crisis, the question of where the emphasis should lie is raised time and again: control of the financial markets, stimulation of demand, or saving jobs? According to EU Commission President Jose Barroso, all these aspects have to be seen together.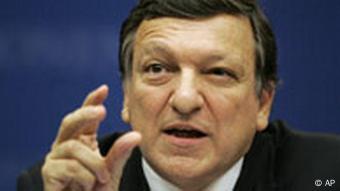 Barroso says the crisis requires to be takcled on all fronts
"You can't separate the financial markets from the economy and jobs," he said. "We can't pit economic issues against social questions, or prioritize social issues over economic ones. We have to act on all fronts."
The host of the G20 summit, British Prime Minister Gordon Brown, also sees a danger that many countries -- European countries included -- are reacting wrongly to the crisis.
"I know that the temptation for many is to meet this uncertainty by pulling back, but I'm telling you that if we've learned anything from history, it's that protectionism is a policy of defeat and fear, and in the end, it protects no one," Brown said at an address at the European parliament.
No more stimulus packages
Willingness to compromise aside, there's one important point in which the EU will likely not bend: more national economic stimulus packages, as Washington is requesting.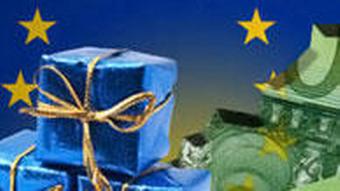 The EU is not interested in any more stimulus packages
Many states are already swimming in debt, and even before the summit, Swedish Prime Minister Fredrik Reinfeldt warned of the consequences of more expenditure.
"The problem is that we're reaching the point where Europe has done what it can, and we're also coming to the point where many European national economies have huge budget deficits, which will create new problems," he said. "Interest rates and taxes have to be pushed upwards in order to balance these deficits."
From the European perspective, one of the basic problems of the G20 summit is that only a minority of EU states are going to London, and they more or less have to represent the others. The question is to what extent will the many small countries feel that they've been represented by the few big ones.
Author: Christoph Hasselbach / Deanne Corbett
Editor: Toma Tasovac