Authorities in Portugal arrested a suspected member of the militant Basque separatist group ETA trying to board a flight from Lisbon to Venezuela on Friday.
Andoni Cengotitabengoa, 30, was identified during a routine airport check in Lisbon as he attempted to board a flight to Caracas with a fake Mexican passport.
Cengotitabengoa had been on the run since a police raid last month revealed hundreds of kilograms of explosives at the house he shared with another ETA member near the Portuguese city of Obidos. His accomplice has not been apprehended.
Venezuela connection?
The arrest came two weeks after a Spanish judge accused the Venezuelan government of cooperating with an alliance between ETA and the Revolutionary Armed Forces of Colombia (FARC).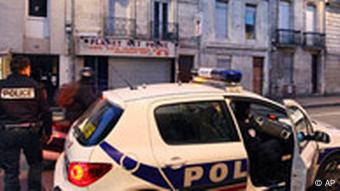 Police from Spain, France and Portugal are collaborating to arrest suspected ETA members
The arrest is the latest in a comprehensive effort by Spain, France and Portugal to work together to capture ETA members, who are thought to be seeking new hideouts in Portugal and Northern France after coming under increased police pressure in Spain and southern France.
On Thursday, a body in a French morgue was identified as missing ETA member Joan Anza, who was found dead in a street in the southern French city of Toulouse last April. On the same day, a French court sentenced two men to prison terms of four and eight years for belonging to the armed Basque separatist group.
ETA is considered a terrorist organization by the European Union and United States and is blamed for over 800 deaths during its 41-year armed struggle for independence for the Basque region of northern Spain and southwest France.
The militant nationalist organization has been severely weakened after increased cooperation between police in Spain, France and Portugal led to the arrest of about 30 ETA suspects this year.
smh/dpa/AFP
Editor: Chuck Penfold