"According to preliminary information, the material could have been used to make a so-called dirty bomb," senior police official Michal Kopcik told a news conference.
A dirty bomb refers to a weapon in which radioactive material is packed with conventional explosives and scattered over a wide area upon detonation.
The seized package of the naturally occurring uranium-238 isotope as well as uranium-235 -- the type used in nuclear reactors and in nuclear warheads -- contained 481.4 grams (17 ounces) of radioactive material.
"The radioactive uranium was even more dangerous because it was in powder form," Kopcik explained.
The Slovak authorities did not reveal how enriched the uranium was, but the amount of money that was reportedly asked for the material has raised suspicions that its concentration was relatively high.
A hefty sum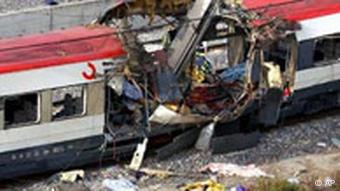 Some Europeans fear that terrorist could use a dirty bomb for an attack
The suspects -- two Hungarians and one Ukrainian -- were detained at a Hungarian-Slovak border crossing on their way to a meeting where they were planning to sell the material at $3,500 (2357 euros) per gram or $1.7 million in total.
"Police were watching the sellers as well as the buyers," Kopcik said without disclosing more information about the buyers.
This was not the first time that a shipment of enriched uranium was intercepted in eastern Europe. In 2004, two former Slovak army officers were convicted by a Czech court for trying to sell uranium. They were arrested in November 2003 at a hotel outside of Brno after they tried to sell three kilograms of the substance.
Radioactive trade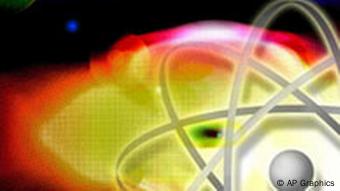 Illegal trade in radioactive materials poses a serious danger to security
The Vienna-based International Atomic Energy Agency (IAEA), a watchdog for the nuclear industry, says it has recorded 1,250 cases of smuggling and other incidents related to the handling of radioactive material since the 1990s.
Richard Hoskins, an IAEA official who administers the tracking database, told the AP news agency that "there are far too many incidents of material not being properly controlled."
"If we can do a better job, we can help keep these materials from falling into terrorist hands," Hoskins said.
Uranium exists naturally as an ore. For it to be used as a source of nuclear energy or in atomic explosions, scientists need to separate out two of its isotopes, uranium-238 and uranium-235, and boost the concentration of the latter, highly fissile, isotope. This process is called enrichment.
Uranium must be enriched to contain at least 85 percent of the U-235 isotope in order to be weapons grade.