The Dubai-based airline announced Sunday the $15.1 billion (13 billion euros) committment to buy 40 Boeing 787-10 Dreamliners.
The aircraft will begin to be delivered in 2022, the carrier's head Sheikh Ahmed bin Saeed Al Maktoum, who signed the provisional agreement with Boeing, said at the Dubai Air Show.
"Some of these will be used to replace the older aircraft which will retire in the next few years. It will keep the Emirates' fleet always young," he told a press conference.
The Boeing 787-10 typically lists for just under $313 million.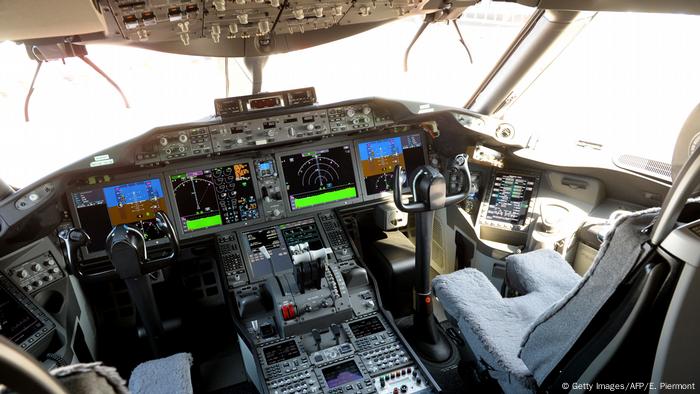 The cockpit of a Boeing 787-10 Dreamliner
Emirates is already the world's largest buyer of Boeing's 777, with 165 craft in operation and another 164 on order.
Weapons for sale
Sheikh Ahmed said Saturday's deal raises total orders from Boeing, the global competitor of Airbus Industries, to about $90 billion.
"Emirates' orders today will be delivered from 2022, taking the airline well into the 2030s," he said in a statement.
"Some of these will be replacements so that we maintain a young and efficient fleet," he said, "and others will power our future network growth."
Read more: 'Cracks' in factory Dreamliner planes
The Dubai Air Show features the world's largest defense contractors, who are now promoting their weapons systems at a time of rising tensions between Iran and Saudi Arabia.
Notably absent from this year's show is Qatar Airways. They have been locked out by a diplomatic feud with four of their Arab neighbors.
The dispute is now in its fifth month with no end in sight. Saudi Arabia, the United Arab Emirates, Egypt and Bahrain cut ties with Qatar in June over its connections with Iran, and accused the tiny Gulf state of supporting Islamist groups, charges Qatar denies. The Arab quartet also cut direct flights with Qatar and closed their airspace to Qatari aircraft.
bik/jlw (AP, AFP)