Two journalists and their driver were abducted on March 26 while covering a story on drug-related violence along Ecuador's border with Colombia. Ecuador's President had given the captors a 12-hour deadline to provide proof of life for the trio who worked for the El Comercio newspaper.
Ecuador has blamed the abductions on the Oliver Sinisterra Front rebel group, which authorities say is led by a former rebel from the Revolutionary Armed Forces of Colombia (FARC), a Marxist group which waged more than 50 years of armed conflict with the Colombian government. The journalists' deaths are a setback to a 2016 peace deal under which FARC rebels officially handed over their weapons.
Read more: Colombia's FARC rebels seal historic disarmament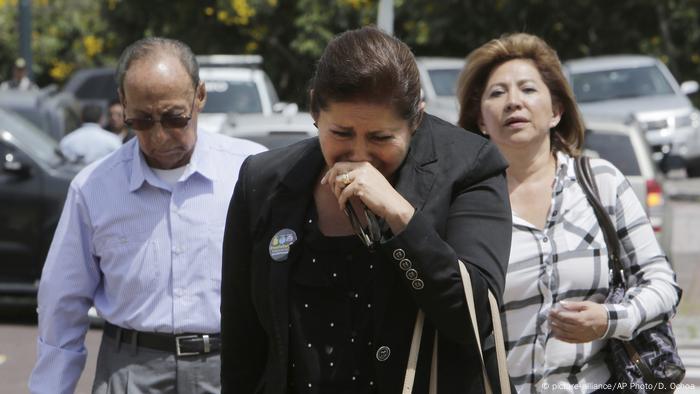 Relatives of three captured press workers arrive to meet Ecuador's president on Friday
What is the Oliver Sinisterra Front?
A group of about 80 FARC dissidents that Colombia accuses of involvement in drug trafficking and extortion.
Led by Walter Artizala, a former FARC rebel known as "Guacho," an Ecuadorian in his 30s.
Gaucho is an expert in explosives, drug smuggling and financing, and is one of the most wanted men in both Colombia and Ecuador.
Ecuadorian President Lenin Moreno has offered $100,000 (€81,000) for information leading to Gaucho's capture.
Read more: Colombia officially declares peace with FARC after handover of weapons
Government condemnation
Colombian President Juan Manuel Santos denounced the murders as "a deplorable act." Costa Rica expressed its "absolute condemnation" of the bloodshed. Spain denounced it as a "vile and criminal act."
The International Committee of the Red Cross said it had received approval from the two governments and members of Guacho's group to organize the recovery of the bodies of reporter Javier Ortega, 32, photographer Paul Rivas, 45, and their driver Efrain Segarra, 60.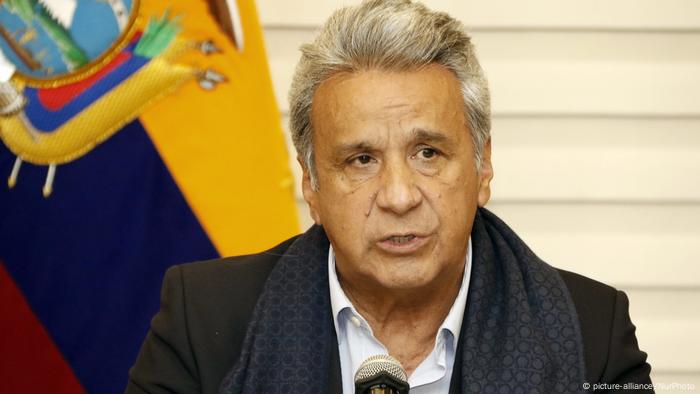 Ecuador's president, Lenin Moreno, gives the abductors of the press team 12 hours to present proof of life
What happens next?
Moreno rushed back to Ecuador from a summit in Peru on Thursday night to deal with the crisis. He has already announced plans to deploy elite troops to the border area where the journalists were last seen. Last month Moreno announced 12,000 soldiers and police officers would boost security along the border and work to combat drugs gangs. Santos has dispatched Colombia's top military advisers to Ecuador's capital Quito to assist with military planning, however no specific details of an operation have been released.
kw/sms (AFP, dpa)
DW's editors send out a selection of the day's hard news and quality feature journalism. You can sign up to receive it directly here.