In the heady days of reunification, then Chancellor Helmut Kohl optimistically predicted that the devastated economy of former East Germany would soon turn into a "flourishing landscape."
He was not completely wrong: Cities such as Berlin, Dresden, Leipzig and Erfurt are indeed thriving. Rents in Potsdam, close to Berlin, are currently the highest in Germany, while the picturesque town of Goerlitz has become a popular destination for well-heeled pensioners from western Germany.
But elsewhere in the eastern states, boarded-up shop windows, dilapidated tenement blocks and abandoned villages attest to an inexorable socio-economic decline. Some 1.3 million apartments in eastern Germany are empty. Ironically, 350,000 of them are to be torn down by 2010 under the aegis of a project called, "City Restructuring in the East."
"Eastern Germany has winners but it also has losers," said Philipp Oswalt, curator of the international "Shrinking Cities" project. The group of researchers based in Berlin includes architects, ethnologists, geographers and artists, who have set out to find fresh approaches to dealing with population loss in urban areas -- one of the harshest consequences of reunification.
Post-socialist deindustrialization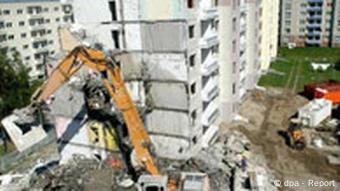 Not an uncommon sight
Statistics show that the population of eastern Germany will have dropped 50 percent by 2050.
And according to the Berlin Institute for Population and Development, three of Europe's ten fastest-shrinking regions are in eastern Germany: Saxony-Anhalt, Chemnitz and Thuringia.
Researchers attribute this decline to post-Socialist deindustrialization, augmented by problems faced by suburban and rural areas across the world.
Medium-sized, industrial cities are especially hard-hit. Eisenhuettenstadt was founded in 1961 by merging the small town of Fuerstenberg, the village of Schoenfliess and Stalinstadt, which was built in 1950 to house workers from the nearby steel works. The population here has shrunk from 50,000 in 1990 to 33,000 today.
Another city struggling with a similar population loss is Schwedt an der Oder, which solved the problem by merging communities.
Remote areas such as Prignitz, Uckermark and Lausitz, are even worse off. The Berlin Institute for Population and Development has recommended that rescue efforts focus on communities where survival is still a possibility -- and here, many villages and small towns are simply a lost cause. The cost of improving run-down structure is too high, given the reduced size of the population.
At the heart of the problem are a falling birth rate and a westwards exodus: Over one million people in eastern Germany have left their homes since reunification to find work in the West. In Saxony alone, over 20,000 people leave every year -- effectively the population of a small town.
The girls who get up and go
The research group "ostmobil" at the Center for Social Research in Halle has established that those who leave are primarily the youngest, the most flexible and the best educated. And many of them are young women, who, in eastern Germany, are twice as likely to get a school diploma as their male peers.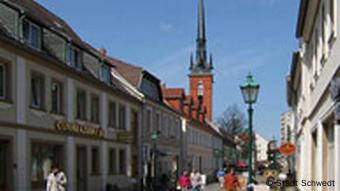 And where are all the people? Schwedt has lost about half of its residents
Not only are their chances of finding work greater in the West, they are also more likely to find a partner with a similar educational background. But the result is that in some parts of eastern Germany, the ratio of young women to men is 80:100. Consequently, the number of potential mothers is expected to have fallen by 50 percent by 2030.
The drop in the birth rate in eastern Germany is now higher than anywhere else in Europe, a demographic development that brings with it an entire set of problems, from school closures to empty apartments and neglected infrastructure. Ultimately, the gap between the boom towns and the boondocks shows no signs of closing, says the Berlin Institute for Population and Development.
But there are a few bright lights on the horizon. A number of companies from growth industries such as energy and environmental have established bases in eastern German states, and according to Philipp Oswalt from Shrinking Cities, eastern Germany's population shrinkage is not all bad.
"The process that has occurred in recent years has given eastern German a head start," he said. "The same phenomenon is apparent in parts of western Germany, too. What has happened at an accelerated pace in eastern Germany shows us what will happen in areas such as North Hesse and North Bavaria."
And forewarned, as they say, is forearmed.