The Dutch Embassy in Qatar confirmed the woman is being held and said a hearing was scheduled for Monday in Doha.
The embassy said Saturday it was "in close contact with the defendant and her family" and has provided consular services.
"We have provided assistance to her since the first day of detention," it said.
The woman's lawyer, Brian Lokollo, confirmed she had told Qatari police she was drugged and raped while on a vacation with a friend on March 15. While out at a hotel bar in the Qatari capital, she believes someone "messed with her drink" and her memory became hazy, Lokollo said.
"She went dancing but when she returned to the table after the first sip of her drink, she realized that someone had added something to her glass," Lokollo said. "She felt very unwell."
The woman remembered nothing more until the following morning when she woke up in an unfamiliar apartment and "realized, to her great horror, that she had been raped," Lokollo said.
Immediate detention
The woman was immediately detained after reporting the attack and has appeared in court three times. She fears she may face an adultery charge for having sex out of wedlock.
"She was arrested in March on suspicion of adultery, which means having sex outside marriage," which is outlawed in Qatar, Lokollo said. "She has nightmares, and is anxious and traumatized."
A spokeswoman for the Dutch Foreign Ministry confirmed the arrest but said the young woman, giving her first name as Laura, has not been charged.
At first, her family and her employer wanted to keep a low profile on the case and engage with the authorities. But they decided to go public this weekend and launch a social media campaign calling for her release.
Qatari officials have not yet responded to requests for comment and the state-run Qatar News Agency did not report on the case on Saturday.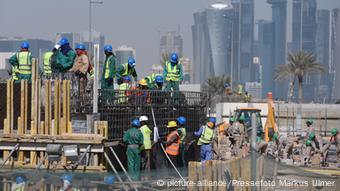 Construction of the football facilities in Doha has been dogged by human rights concerns
Travel risks
Lokollo said his client's case would raise fresh concerns. "It will make people realize that travel to Qatar is not free from risk," he said. Qatar is due to host the FIFA World Cup in 2022.
Similar cases have been reported in Dubai and the United Arab Emirates.
In 2008, an Australian woman said she was jailed for eight months after reporting she was gang-raped at a hotel in the United Arab Emirates.
In 2013, a Norwegian woman who reported being raped in Dubai, received a 16-month sentence for having sex outside of marriage before being pardoned and allowed to leave the country.
jm/cmk (AFP, AP)