The Dutch government appeared set to fall narrowly short of a majority in the country's Senate on Thursday morning, taking just 37 out of 75 upper-house seats after a regional election, according to exit polls.
Figures suggest Prime Minister Mark Rutte's five-month-old coalition could be set for real governing difficulties, needing help from both the left and right to pass laws.
Big winners in the Wednesday elections were the Freedom Party (PVV), which was taking part in the regional ballot for the first time and managed 12 percent of the vote.
The biggest losers appeared to be the Maxime Verhagen's Christian Democratic Appeal (CDA) party, which has ruled in a formal coalition with Rutte's Liberals (VVD) since last year, with the help of a looser arrangement with the PVV. Support for the Christian Democrats plunged to 14 percent, down from a 25 percent showing in 2007.
With 20 percent, the prime minister's VVD had the largest voter share, followed by the social democratic Labor Party which earned between 17 and 18 percent, according to the exit poll by Synovate for Dutch public television network NOS.
Dependent on lower house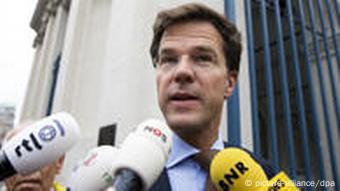 Rutte could face a difficult time steering through legislation
Rutte's government is already dependent on the PVV, led by the controversial figure Geert Wilders, in the lower house. In return for support on certain issues, the coalition agreed to a pact with Wilders to take a tougher line on immigration, especially from Muslim countries.
However, if all three parties fall short of a majority in the Senate - which must approve all legislation - the government's agenda would need support from outside.
Wilders' party has built its electoral base on promises to reduce immigration from Islamic countries, to reject any increase in retirement ages and to oppose any easing of redundancy legislation in favor of companies.
The PVV's success might mean that openly anti-Islamic politicians gain seats on the Senate for the first time.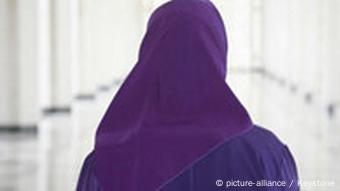 Wilders wants to ban certain head coverings
Intention to thwart government
During the election campaign, Job Cohen, leader of the opposition Labor Party, said he would aim to thwart the ruling cabinet in its business in the Senate.
Planned government cuts on social spending of some 18 billion euros ($25 billion) could prove contentious, as well as Wilders' demand for the Netherlands to ban certain head coverings used by Muslims from being worn in public.
Rutte's government may be able to win support from smaller parties on the center-right, but may still find it difficult to command an absolute majority. Analysts have suggested that repeated rejection of legislation by the Senate may force the government to quit.
Voters on Wednesday elected 566 members to 12 provincial parliaments, which will elect the 75 members of the senate in May.
Turnout was about 54 percent of 13 million registered voters, the first time more than half of the electorate has registered a vote since 1995.
Author: Richard Connor (dpa, Reuters)
Editor: Martin Kuebler