The anti-government demonstrators, most of whom were members of the liberal Yabloko party, took to the streets of St. Petersburg to protest a ban on their holding a rally.
When the flag of a banned extremist association was suddenly unfurled next to the Yabloko protestors, police officers attacked with truncheons.
The opposition had said in the run-up to Sunday's rally that they feared agents provocateurs could disrupt their protest.
Chess legend turned opposition leader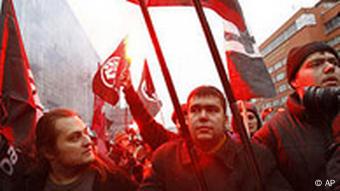 Opposition parties are planning a rally in St. Petersburg on Sunday
On Saturday, opposition leader and former chess world champion Garry Kasparov was arrested at an anti-government rally in Moscow and sentenced to five days in jail.
Some 3,000 members of the opposition alliance Another Russia took part in the demonstrations in the Russian capital. Many people were taken away in buses. Kasparov told the radio station that the police used force.
Human rights activist Lev Ponomarev, who was also arrested, accused the authorities of a "completely exaggerated reaction."
Police said that the demonstrators had presented a "directed provocation."
The authorities gave permission for the rally, but banned a protest march to the Central Election Commission one week ahead of the Dec. 2 elections to the State Duma -- the lower house of the Russian parliament -- for "security reasons."
Petition for fair elections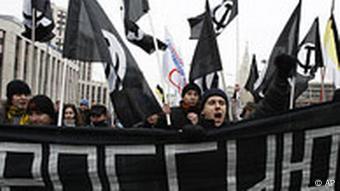 Members of the National Bolshevik party joined the anti-Kremlin rally in Moscow
Some protestors tried to break through the police cordon to hand in a petition for fair elections to the commission.
More than 1,000 OMON security forces and soldiers blocked the demonstrators' way, Russian media reports said.
Leader of the liberal Union of Rightist Forces (SPS) Boris Nemtsov accused Putin of being a "coward," who was scared of peaceful people. Nemtsov was a surprise participant at the rally.
Nemtsov called on the Russian people to vote for the opposition on Dec. 2.
Human rights activist Ponomarev said that the combined appearance of the various opposition groups was a sign of progress.
Demos and counterdemos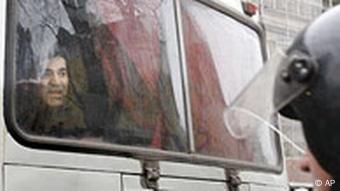 Chess legend Garry Kasparov was detained by police
Police in other Russian cities also arrested dozens of people wanting to take part in rallies by Another Russia.
Numerous arrests were reported at a rally in the city of Nizhny Novgorod, while reports said a rally in Samara was called off after police detained organizers. Opposition activists also claimed police in Samara and Moscow had seized election placards, banners and flyers.
Thousands of people demonstrated their support for Putin, the leading candidate for the ruling United Russia party, in counterdemonstrations in Moscow.
Putin's participation in the polls has led human rights activists to describe the election as a sham, the result of which is a foregone conclusion.
There were more than 3,600 members of the security forces deployed to the various demonstrations in Moscow.