The pharmacist, identified as Peter S., is also under suspicion for overcharging on some 50,000 prescriptions. The financial damage to health insurance companies is estimated at around 56 million euros ($65.7 million). German authorities arrested the man in late 2016.
According to recent media reports, the man had been tampering with cancer medications for years while working in a large pharmacy in the western German town of Bottrop. The pharmacy allegedly delivered the diluted drugs to several German states and dozens of clinics and private practices. Some 3,700 patients are believed to have been affected since January 2012.
Read more: Fighting cancer with methadone - making chemotherapy more powerful
On Thursday, Germany's Foundation for the Protection of Patients (Deutsche Stiftung Patientenschutz) demanded stricter controls and spot checks for around 200 big pharmacies across Germany.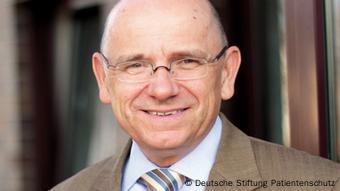 Eugen Brysch is the head of Germany's Foundation for Protection of Patients
"The unused cancer medications should be collected and randomly tested for active ingredients," said Eugen Brysch from the watchdog organization.
Some patients still uninformed
On Wednesday, authorities in the German state of North Rhine-Westphalia said they would introduce new control measures for pharmacies, including unannounced inspections.
"Patients receiving cancer treatment need to be able to have faith that they are receiving proper medications and in proper amounts," state Health Minister Karl-Josef Laumann said.
Read more: Health study shows improvement in Germany's battle with cancer
The activist Brysch greeted the move, saying it was "overdue," and urged other German states to follow suit. The Bottrop scandal allegedly affected patients in six German states.
According to public broadcaster WDR, the scheme was discovered by the pharmacy's commercial manager, who compared the amount of medication the pharmacy had purchased with the amount it was selling. The move showed that some medication sold only had one-fifth of the active ingredients they were meant to contain.
German courts have not yet launched a trial against the pharmacist. The authorities have yet to inform all the affected patients, and are working on gathering their contact information, according to Laumann.
dj/rt (KNA, AFP)