In a statement released on Monday, the DFB (German football association) said it regretted but respected Mesut Özil's decision to retire from the national team. It also thanked the midfielder for his 92 international appearances for the country, as well as his "decisive role in Germany winning the World Cup in Brazil in 2014."
It went on to stress that the integration work that it does on all levels of German football was of "central importance" to the DFB.
It also conceded that it could have done better in managing the affair that started when Mesut Özil and Ilkay Gündogan had their pictures taken with Turkish President Recep Tayyip Erdogan prior to the World Cup in Russia.
"We regret that Mesut Özil feels he has not been protected enough against racist insults towards his person," the statement said. It added that "it was important that Mesut Özil, in the same way Ilkay Gündogan did, explain the [Erdogan] photo, regardless of the sporting outcome in Russia. In the DFB, we win and lose together."
No racism at the DFB
The statement said the DFB would continue its "successful work on integration," while at the same time rejecting the notion that racism could have been behind the singling out of Özil after Germany's failure in Russia.
"We clearly reject the idea that the DFB could be associated with racism, with regard to its representatives, employees, the clubs and the work of millions of volunteers," it said. "The DFB has been working hard in the service of integration in Germany for many years."
Read more: The Özil affair: A chronology in quotations
However, the statement paled in comparison to some of the criticism it and its president, Reinhard Grindel have received from former DFB officials since Özil announced his retirement from international football on Sunday.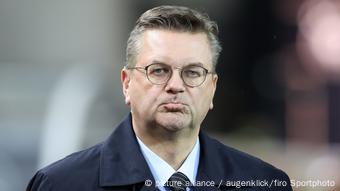 DFB President Reinhard Grindel was singled out by Mesut Özil as a reason he left the German team
'Disappointed but not surprised'
In his statement, the German midfielder of Turkish origin essentially accused Grindel of racism.
"To you, Reinhard Grindel, I am disappointed but not surprised by your actions," Özil said in his statement announcing his retirement from international football.
"In 2004 whilst you were a German member of Parliament, you claimed that 'multiculturalism is in reality a myth [and] a lifelong lie.' whilst you voted against legislation for dual-nationalities and punishments for bribery, as well as saying that Islamic culture has become too ingrained in many German cities."
He also noted that: "In the eyes of Grindel and his supporters, I am German when we win, but I am an immigrant when we lose."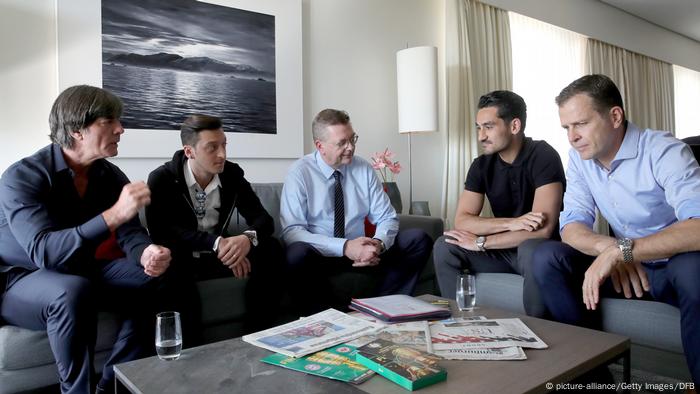 Grindel met with Özil and Gündogan to discuss the photos with Turkey's President Erdogan.
'Second-class German citizens'
Theo Zwanziger, DFB president from 2006 until 2012, told German news agency DPA on Monday that he was "deeply saddened" by Özil's decision to withdraw from international football.
"If it comes to a conflict, you have to try unbelievably quickly to settle it through dialogue," said Zwanziger, who criticized the DFB for how it has handled the situation.
"The DFB failed to resolve it before the World Cup for whatever reason and now the issue has come up again," he said. "Due to mistakes in communication, something has happened that must never happen to migrants – they must never feel like second-class German citizens."
Read more: Mesut Özil affair: 'We are scapegoating an immigrant,' says Berlin integration chief
'Worst DFB president in 50 years'
Former DFB spokesperson Harald Stenger went even further, calling on Grindel to step down.
"The president of the DFB carries the political responsibility for how this case was handled," Stenger told German public broadcaster ARD on Monday. "He is responsible for the disastrous communication, and so it's time to talk about his resignation. And to some extent, that discussion has already started."
Specifically, Stenger, who worked for the DFB from 2001 to 2012, said Grindel had changed his tune more than once over the course of the affair, and never managed to settle on a clear and consistent position.
"I've known many DFB presidents over the years and I can say that Reinhard Grindel is the worst of them in the last 50 years," Stenger concluded.