The German football association (DFB) has slapped Eintracht Frankfurt with a 75,000 euro fine on Thursday and has banned a section of the supporters for up to three matches after inappropriate fan behavior.
The DFB have also banned supporter choreography and banners at home and away matches until the end of the season. Frankfurt have already accepted the punishment.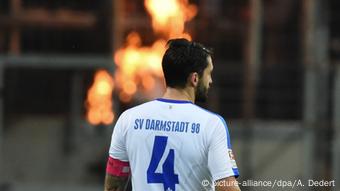 Darmstadt's Aytac Sulu had to watch as Frankfurt fans burned his club's flag.
Frankfurt supporters were rather rowdy in the first Hessen Derby against Darmstadt on December 6. The match saw a three minute delay due to pyrotechnics in the crowd, the burning of Darmstadt flags and banners, and an intervention of local police to prevent two rival supporters groups from clashing. That fiery match came a month and a half after Frankfurt supporters threw pyrotechnics from the away supporters section in Frankfurt's 1-0 loss against Erzgebirge Aue.
A third of the 75,000 euro fine will have to be used to improve safety and anti-violence measures, the DFB said in a statement. A standing section of the stadium will also be closed in Frankfurt's home game against Stuttgart on February 6.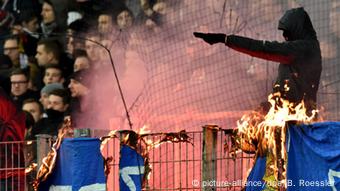 Frankfurt fans will be very limited in their supportive demonstrations in the second half of the season.
The supports will also not be allowed to travel to Darmstadt when the Hessen derby resumes at the end of April. The DFB is forcing Frankfurt to reimburse Darmstadt for the loss of revenue from ticket sales during that match.
Frankfurt fans could be barred from a third match should there be any further crowd trouble as part of a suspended decision until December 2016.
The "Eagles" will play their first match of 2016 on Sunday when they host Wolfsburg. They currently sit 14th in the Bundesliga table after losing four of their last five matches.
dv/bw (AFP, dpa)