Seventy-two out of 90 residents eligible to vote did so: 71 voted against the planned US missile shield and one for, Trokavec's mayor Jan Neoral told news agency AFP.
The vote will only have a symbolic value, as the government has resolutely refused to hold a national referendum and instead has chosen to seek parliamentary approval of Washington's request.
But neighboring villages in the forested, hilly countryside about 60 kilometers (40 miles) from Prague, also intend to hold their own referendums over the next weeks, said Neoral.
Sending a message
"This is our message to the government and the government should take notice of the fact that our village wishes (the radar installation) not to happen," Neoral said.
Positioning the radar at the base two kilometers (1.2 miles) from the village is part of requests made by the US to the government of Prime Minister Mirek Topanek, who is in favor of the plans.
"We have nothing against the Americans," said Trokavec resident Ladislav Straka. "If it were the Russians or the Japanese, it would be the same. We don't want it."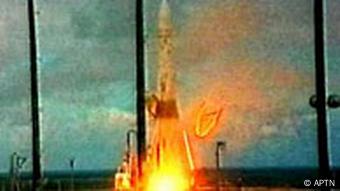 The Czech radar would detect missiles, which would then be shot down over Poland
Milena Huskova, a 52-year-old Labrador breeder, was also against the plan.
"The radar can have a negative impact on us, on the animals and on nature, so we don't want it," Huskova said.
Politics parties divided
According to a survey by the Czech-based Public Opinion Research Center (CVVM) in March, around six out of 10 Czechs are opposed to hosting the X-band radar, which is designed to detect a missile attack.
Ten interceptor missiles, to be based in Poland, would shoot the missiles out of the sky.
On the political level, the country's strong Communist Party has led attacks on the proposed radar. The main opposition party, the Social Democrats, is demanding a referendum, and the Green Party, which forms part of the center-right governing coalition, wants the base integrated in EU and NATO defense plans.
The proposed rollout of the US missile shield in Central Europe has split European countries. Germany has failed to open a debate about it within NATO, which considers the decision a purely bilateral issue between the US and its staunch allies, the Czech Republic and Poland.
Moscow has protested against the construction of a defense system installed on its doorstep.
The US has offered assurances that the Czech and Polish bases are aimed at completing coverage from installations already in place in the United States, Britain and Greenland and that they are only aimed at preventing long range missile attacks from the Middle East.