Cuba has decided to resume contact with the embassies of Germany, France, Britain, Italy, Austria, Greece, Portugal and Sweden. According to the country's foreign minister, Felipe Perez Roque, Havana wants to once again reach out to Brussels.
But the EU list is far from complete. Fidel Castro's government only plans on reviving ties to those EU members who no longer invite dissidents to official embassy affairs in the Caribbean island's capital. Among those not included are the Netherlands, Poland, the Czech Republic and Slovakia.
The partial warming up of European relations comes after the EU council on foreign affairs recommended in December that the bloc end diplomatic sanctions. Earlier in the week, Roque acknowledged that the change in EU policy had led to Havana's decision. Already a month ago Cuba reestablished contact to Spain, Belgium and Hungary.
End of diplomatic sanctions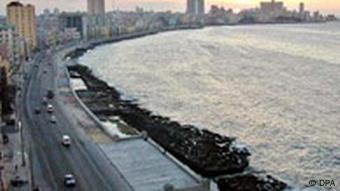 Havana's Malecon boulevard
In 2003 the EU put all relations with Cuba on hold after some 75 dissidents were arrested and sentenced to up to 28 years in prison. Castro's government responded in kind by breaking off all ties to European embassies in Cuba.
Since June, however, 14 of the dissidents have been released and Brussels has been reconsidering its position.
"Both sides have moved back closer to each other because they are both interested in resuming a normalization of relations," said Bert Hoffmann from the Institute for Ibero-American Studies in Germany.
"The Cubans have made a significant step towards resuming ties by releasing a portion of the dissidents," he said and added that the Europeans had done their part by refusing to invite dissidents to receptions in their embassies.
It's also likely that this "low profile diplomacy" will lead to an agreement about releasing all of the dissidents in the near future, Hoffman said.
EU divides over Cuba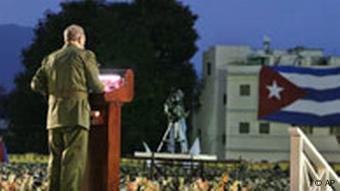 Castro has ruled Cuba for 51 years
Not all EU members are happy about resuming relations with Havana. Those countries still on Castro's black list have resisted a reorientation of EU policy on Cuba. As a result, contact between the Cuban government and the embassies of the Netherlands and the three new member states is still frozen.
"The EU needs to be careful that the issue of Cuba does not divide the bloc," Hoffman said. "Due to their (communist) past, Poland, the Czech Republic and Slovakia understandably have a different relationship to Cuba as compared to Spain, for example."
Havana recognizes this and as a result tries to conduct as much business bilaterally as possible and avoids dealing with the EU as a whole.
Hoffmann predicted that it will not come to a big rift in the EU over Cuba – unlike two years ago with the war in Iraq. But he is nonetheless doubtful that the EU will be able to speak with one voice regarding Cuba. Interests in the 25-member bloc are still too diverse, he said. While people in Madrid think first of the economy in Cuba, those in Prague are primarily considered with human rights issues.