The NOK removed Steuer from the squad on Jan. 26, just 15 days before the Feb. 10 start of the Olympic Games. An investigation found he had previous connections with the Stasi, the East German secret police, before reunification with the west.
The 39-year-old Steuer claimed his exclusion was unfair and the Berlin court has agreed that the NOK had acted rashly.
"There has been no recognizable procedure, particularly as Mr. Steuer did not have his side of things heard," said judge Wolfgang Krause.
The NOK decision followed a recommendation by the "Independent Commission for Stasi Review," although its meeting took place just a few hours before the NOK meeting where Steuer was removed from the squad.
"There is no evidence of a well-considered decision as it was made so soon after the hearing," Krause said.
Stasi investigations
In total 160 people were investigated for possible Stasi ties. Ski-jumping coach Henry Glass and Steuer were both excluded from the traveling party.
A third German official was also omitted although their identity has yet to be revealed.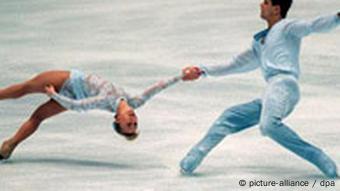 Mandy Wötzel and Ingo Steuer in Nagano, Japan in 1998
Steuer, the 1997 world champion and a bronze medalist at the 1998 Winter Olympics with Mandy Wötzel, is the coach for figure skating pair Aljona Savchenko and Robin Szolkowy. The two are strong medal prospects, having won silver at this year's European championships in Lyon.
"This is the best solution for the athletes," said Udo Dönsdorf, sports director of the German Ice Skating Union (DEU).