Father, Mother, Child - papp, yaay, doom - is the ironic title given by many Senegalese to the 52 meter (170 feet) -high statue that dominates the skyline of the capital Dakar. It depicts an African family looking westwards. Some say President Abdoulaye Wade has had himself, his wife and his son Karim immortalized in stone. Wade maintains the sculpture symbolizes the African renaissance and restores to the Senegalese people and all Africans the identity they lost as a result of colonization and other outside influences.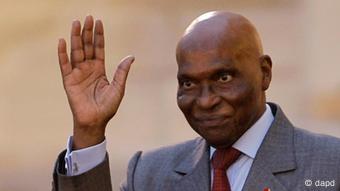 President Wade is accused of wanting to immortalise himself
The gigantic sculpture has stood on the continent's westernmost point for almost two years. The discussion about its artistic merit and validity that began when it was first unveiled continues unabated. Right from the start there was speculation that corruption was involved in the project, centering on a shady land deal.
Shaky foundations
The head of the Friedrich Naumann Foundation in Dakar, Werner Nowak, has researched the project thoroughly. "The 'monument to African resistance' is a prime example of public property being transferred to private hands, with large sums of money being chanelled in directions that do not benefit the public good," he told DW. A businessman was commissioned by President Wade to build the monument, the value of which is put at over 20 million euros ($26.5 million). In return he received a plot of land in the center of the city that was worth six times as much, Nowak said.
President Wade's spokesman, El Hadj Amadou Sall, rejects any attempt to make the head of state responsible and would not comment on speculation that Wade had secured for himself 35 percent of the revenue from tickets and souvenir sales. The money is allegedly for a foundation but details are unclear.
Where are the visitors?
The statue may have been a lucrative deal for the businessman but is unloved by the population at large. Most Senegalese think it is unnecessary and a waste of money, which could have been better spent on projects such as hospitals or accommodation. Opposition election candidate Moustapha Niasse said it was quite possible that the statue would be torn down if Wade should lose.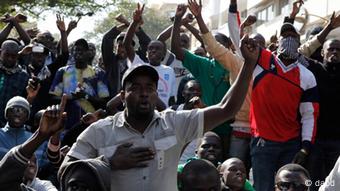 There is widespread opposition to the president's re-election bid
Traders and photographers are more enthusiastic. "I like the monument. It looks good and we are proud of it," one of them told DW. "Before, there were people who didn't know where Senegal was - thanks to the statue, that's changed. And the money is good for everyone. There are so many visitors - didn't you see the buses full of tourists?"
That may have been a slight exaggeration. At the time DW was there, there were no crowds of tourists. Just five people joined the guided tour to the top of the statue, which is the largest in the world outside Asia and the former Soviet Union. There was not a single bus in sight.
Author: Dirke Köpp / sh
Editor: Mark Caldwell / rm