In a controversial twist to the international 'stem cell wars', women in Britain can now donate their freshly harvested eggs to science, theoretically helping to further advances in techniques such as therapeutic cloning and stem cell research.
But what makes the decision unusual is that although they would not be paid for this "altruistic donation," they would be eligible for expenses of up to 370 euros ($490) -- a development which has prompted experts to question not so much whether women should be free to donate, but whether scientists should be allowed to ask.
Boosting science
The ground-breaking announcement came from Britain's Human Fertilization and Embryology Authority (HFEA), which said the move could help stem cell researchers find a cure for heart problems, infertility, diabetes, Alzheimer's and Parkinson's -- and stressed that the 'fee' was not a payment, but compensation.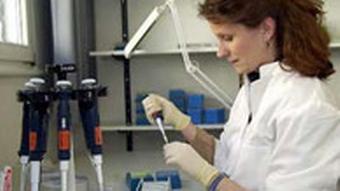 Scientists argue red tape is putting the brakes on science
"The Authority has decided that women will be allowed to donate their eggs to research, in conjunction with their own IVF treatment or as an altruistic donor," said Angela McNab, chief executive of the HFEA. "Given that the medical risks for donating for research are no higher than for treatment, we have concluded that it is not for us to remove a woman's choice of how her donated eggs should be used."
The decision was welcomed in Britain, a world leader in stem cell research, where scientists have complained that a shortage of eggs and excessive red tape are hampering progress.
"Women are capable of making their own minds up about whether or not they donate their eggs for research. Society should respect their autonomy," said Alison Murdoch, director of the Newcastle Fertility Center at Life, which was awarded Britain's first license to begin recruiting women donors who are not already having medical treatment.
"Body-shopping" and exploitation
But elsewhere, the scheme has come in for manifold criticism, with many arguing that it renders women mere receptacles and paves the way for a growing commercialization of the human body.
Donna Dickenson one of Britain's leading experts on medical ethics, stresses a subsequent need for a set of legal protections for women who donate eggs.
"Some women do donate altruistically, and that's an important right," she says on her website. "But just because someone has made a 'free' choice to engage in any activity doesn't mean the law has nothing to say about it. We need strict regulation to protect them, if we decide to allow them to donate. And the same is true of everyone who may be affected by 'body shopping' -- by the growing commercialization of human tissue."
"(The decision) is highly problematic," agrees Member of the European Parliament Hiltrud Breyer from the German Green Party. "My fear is that it will open up an ethical floodgate, which will erode the basic principle of the non-commercialization of the human body. Women will be reduced to the status of mere suppliers of raw materials."
An object of trade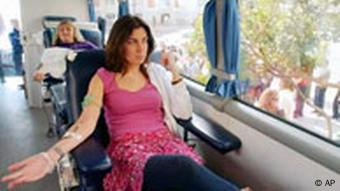 Egg donation: not as easy as giving blood
In Germany, where the production of human embryonic stem cells is prohibited by the Embryo Protection Law, bio-ethics experts are worried that the HFEA's decision will result in hard-up women taking part simply for the money, ignoring any potential risks.
"The idea that women can make up their own minds about donating shows a striking ignorance of social realities," says Breyer. "We already know there is a flourishing egg trade with Eastern Europe, where many women would see 370 euros as a lot of money."
Dirk Lanzerath, CEO of the German Reference Center for Ethics in the Life Sciences (DRZE), echoes her fears. "The example of the black market organ trade shows us that financial motivation tends to open up markets, especially in developing countries."
The issue occupies a legal gray area, he points out, citing the Convention on Human Rights and Biomedicine, on Transplantation of Organs and Tissues of Human Origin, which states that "advertising the need for, or availability of, organs or tissues, with a view to offering or seeking financial gain or comparable advantage, shall be prohibited."
Health risks
But it is the physical risks which concern Sigrid Graumann, a former member of the German Parliament's Enquete Commission Ethics and Law in Modern Medicine. In the field of reproductive medicine, she says, women's welfare should always take first priority -- and the process of egg donation involves women taking hormones which can cause complications such as ovarian hyper stimulation, future fertility problems and even kidney failure and death.
"If women undergo this treatment only in order to donate, the risks cannot even be justified as in their own interests," she points out.
Dirk Lanzerath is equally skeptical. "The procedure is in no way comparable to giving blood or donating sperm," he says, "because it entails serious risks which are not acceptable in a non-therapeutic context."
MEP Peter Liese from Germany's Christian Democrats is convinced the UK model might even prove counter-productive by providing grist to the mill of opponents of stem cell research.
"Generally, opinion is starkly divided on the issue of embryo protection between the conservative Christian position and the 'liberal' position," he says. "But there is a broad consensus that we need to be very careful with egg donation. Were wide-scale therapeutic cloning to occur, hundreds of thousands of women a year would have to be donating eggs at considerable risk. This alone is a valid argument for a restrictive approach to stem cell research."
"It is outrageous of the HFEA to suggest that the scientific benefits outweigh the risks of paid egg donation," concurrs Hiltrud Breyer. "Science simply does not have the right to gamble with women's health in the name of this supposed cure-all, especially when its alleged benefits for mankind are based on utterly exaggerated and unrealistic promises."