When the news of his the death broke out last evening, his supporters converged at his residence in the Limete neighborhood in Kinshasa. At one point, the police intervened to disperse the crowds. "We are shocked, and it is a great loss to the country," one of his supporters told DW. "We expected him to return to the country."
"When I received the news this morning I was touched," said a taxi driver. "But when I heard the news I didn't have the courage to drive."
At 84, Tshisekedi had been battling health issues for the past few years and was receiving medical treatment in Belgium. His death was of course not untimely, but the Democratic Republic of Congo (DRC) is at a political turning point and the senior politician played a vital role in the negotiations. "I don't know what's next here in the DRC," said one supporter. "We didn't really expect this to happen at this stage."
The country was plunged into a political crisis in late 2016, when President Joseph Kabila's government decided to delay elections indefinitely – the political void was to be filled by Kabila's government. Earlier that year, a DRC court had ruled that Kabila could stay in power until elections were held.
Emery Damien Kalwira, president of the Congolese Coalition for Transition said that his death has come as a big blow to the opposition. "The opposition will weaken," Kalwira told DW. "He was in the hearts of many Congolese people. He had the power to unite a divided opposition in the Congo and enabled them to participate in the peace talks with President Kabila. Therefore we think his death will cause a split in the opposition."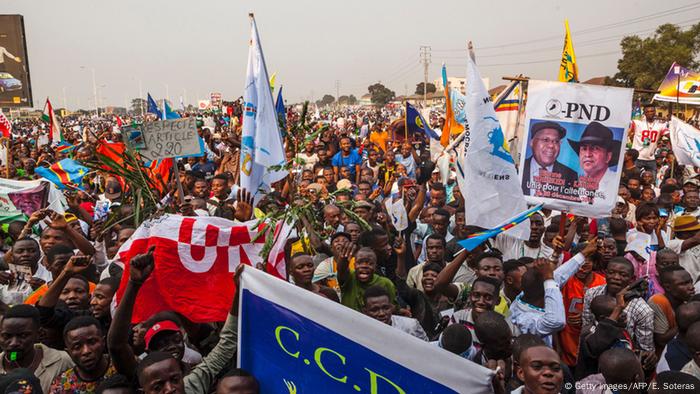 Opposition supporters rallied behind Etienne Tshisekedi even though he had spent two years abroad.
A national icon
Etienne Tshisekedi initially served under the government of the country's dictator, Mobutu Sese Seko, for almost 20 years. He founded the opposition party Union for Democracy and Social Progress (UDPS), after splitting with Mobutu in 1982. "We're not just speaking of the physical death of a person. Tshisekedi is a national icon. He embodied democracy his whole life," said party member Fabien Mutombo. An activist, Jeannot Kabuya, noted that Tshisekedi was always close to power, but was not willing to take it at any cost.
In his lifetime, veteran opposition leader of course also had his share of enemies. Immediately after his death, however, even DRC's ruling coalition had kind words for him. "A great, uncompromising patriot has left us," said Andre Alain Atundu, speaker of the ruling party coalition. "This is the end of an era. May he rest in peace."
What next for the opposition?
A sharp blow has definitely been dealt to the people who had set their hopes on him. Since the end of December 2016, the country has been experiencing a fragile peace that was brokered by the heads of DRC's Catholic church (CENCO).
As a prominent figure, he united the opposition. Tanzanian analyst, Jenerali Ulimwengu, described him as having a certain mystique around him.
"Tshisekedi was chosen as the president of the advisory board of the opposition coalition," explained Bob Kabamba, a political analyst at the University of Liege in Belgium. "There are, of course, several vice presidents. But they must choose a new president and he will probably not have the qualities of Tshisekedi and the same means to put pressure on the government." Even Tshisekedi's son, Felix (pictured at the top), who is considered to be his most likely successor, does not have the political clout of his father, Kabamba added.
Germany's Federal Foreign Office also voiced their condolences to Tshisekedi's family and the Congolese people. Germany also called on all political actors to respect the transitional deal in order to allow for the preparation of peaceful elections.
DRC has never experienced a peaceful transition of power and Kabila's refusal to stand down when his final term expired in December 2016 has raised fears that the country could slide back into a civil war.
Wendy Bashi and Antonio Cascais contributed to this report.