German brewers pride themselves on the 500-year-old purity law which states that only water, malt, hops and yeast can be used in their beers. But craft beer fans argue that those beers, pure or not, lack flavor and character.
Exact sales figures are hard to come by, but craft beers are definitely blazing a trail into the hippest parts of big cities like Hamburg or Berlin. There are craft beer bars, stores and tastings. Many supermarkets now have aisles dedicated to smaller breweries. Craft beer festivals bring in thousands of people and many new brewers are opening their doors.
Simon Siemsglüss set up the tiny Buddelship Brewery - currently with a total staff of three - in Hamburg two years ago. He says that over the past two decades, the overall consumption of German beer has dropped because people are bored by the big brands. Craft beer, he says, offers a whole new experience.
"The demand is definitely there and it's growing. Yes, we are a country where the price of beer competes with the price of water and we still need to convince people that those higher prices are justified," Mr Siemsglüss told DW. "These are special beers. One of ours is aged in whiskey barrels, for example. There is more work in them - but also far more flavor."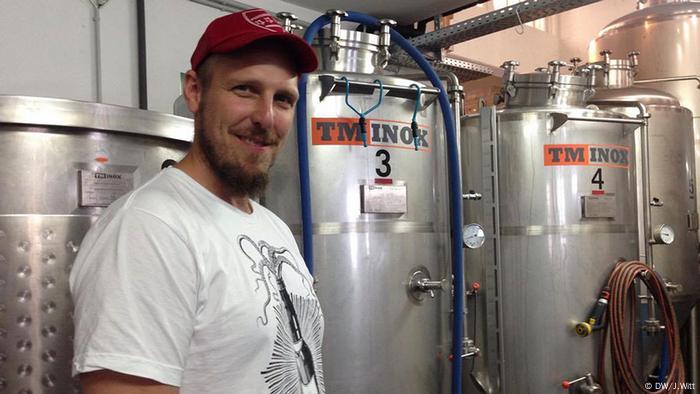 Simon Siemsglüss of Buddelship Brewery sees an opportunity in a market where consumers have grown tired of traditional brew
Inspired, not intimidated
The big brewers say they do not feel threatened by the craft beer trend - but they are reacting. Holsten has been brewing in Hamburg since 1879. It is now a subsidiary of Carlsberg. Spokesman Christoph Boneberg shows off Holsten's own microbrewery at the heart of the site in central Hamburg. He insists that the arrival of craft beer is a good reason to talk about beer again.
"The craft beer we brew here is only sold in one supermarket in Hamburg and in our own brewery outlet," he says. "So we now have craft beer in our portfolio, too. We are delighted that beer isn't only guzzled these days but that people discuss which food it goes with, for example. We like beer gourmets."
"Yes, there are many beer drinkers who want to stay true to their pils - but there are more and more people who want to find out what they like about a pale ale or a red ale. They are willing to experiment and I wouldn't rule out that most drinkers will do so in the long run," he predicts.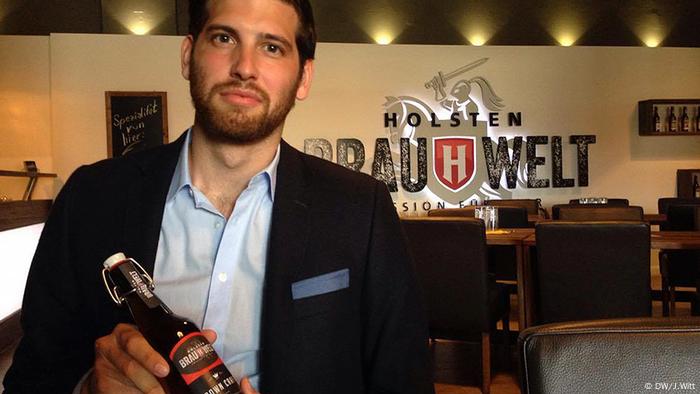 Beer giants, like Holsten, are responding to the new trend by developing their own new flavors, says the company's spokesman, Christoph Boneberg
The Amerikaner are coming
In Germany, craft beer still only occupies a fraction of the beer market. The example of the US, though, shows that this sector can grow fast. More than one in 10 beers purchased in the US is from a craft label.
Now, one of the big craft brewers has ventured across the pond. Stone Brewing, based in San Diego, is far from small these days - but still fiercely independent. Its CEO, Greg Koch, sees huge potential in the market here as he sets up his first brewery in Berlin.
"The craft beer community in Germany is growing. I foresee the people of Berlin and Germany really rallying around the artisanal spirit of craft and artisanal beer," he says.
But Koch says the German capital has a lot of catching up to do. "In Berlin, there are roughly 15 bars or restaurants that have 10 or more beers on tap, and there are less than 15 breweries I believe. In San Diego, there are more than 1,000 bars and restaurants with 10 or more beers on tap, and we have 120 breweries. Diversity in beer is a good thing!"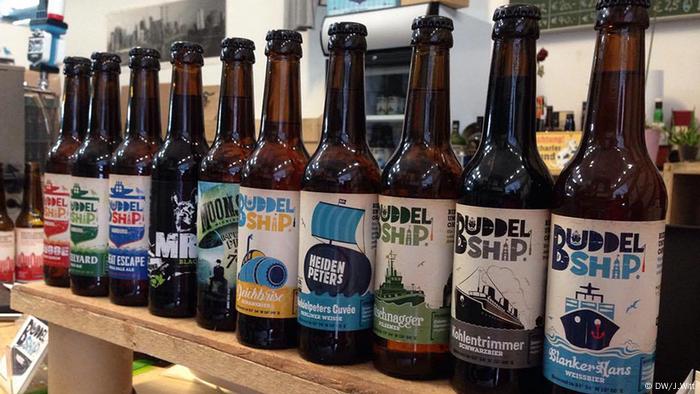 Craft beers can cost up to $10 (roughly 9 euros) a pop. But in a quest for the best flavor, craft beer fans appear willing to shell out the cash
As for the 500-year-old German purity law, he doesn't think that it guarantees good beer. You can brew good and bad beers within its remit, he reckons. In his view, the law will not stay in place much longer.
At the Craft Beer Store in Hamburg, the shelves are stocked with 500 or so varieties from all around the world. The customers aren't checking whether the beers on offer are brewed according to the purity law: It's taste they are after.
"I would never have thought that hops and malt can produce such diverse flavors," says one woman. "I like buying a beer that tastes different to the industrial beers. If you are willing to buy a good bottle of wine, why not buy a good bottle of beer?"