Tempers in Cologne are sky-high following a decision by the United Nations Educational Scientific and Cultural Organization to place the city's cathedral on its endangered list.
No, the Gothic masterpiece isn't suffering from pollution damage, though over the centuries, its façade has been darkened by soot and smog. Nor is the cathedral in danger of being overrun by tourists or threatened by illicit excavation, pillaging, or landmines -- all typical reasons why UNESCO classifies World Heritage sites as endangered.
The problem, according to UNESCO officials, lies in plans by the city of Cologne to erect new office buildings which could have a "harmful visual impact" on the skyline.
Specifically, UNESCO objects to four new high-rise buildings being built opposite the cathedral, across the Rhine River. The new towers, which will range from 103 to 120 meters (338 to 394 feet) in height, could block the dramatic view of the cathedral's 157-meter-tall twin spires, ruining Cologne's distinctive skyline.
City officials take offence
Cologne officials are perplexed and angry about UNESCO's decision.
"UNESCO is a bad loser," said Achim Hermes, spokesman for the company putting up one of the new towers, the Triangle building. "It is well below the height of the cathedral, so the building will not affect anyone's view -- all you have to do is walk a few paces right or left, and your view will be just fine."
"I think they are using the cathedral to penalize the city," said Barbara Schock-Werner, who oversees the cathedral's administration. "One cannot say that only one element, this aesthetic concern, should put the cathedral on UNESCO's red list. They are exaggerating."
UNESCO's biggest threat is that it could strip the cathedral of its World Heritage status, though UNESCO spokeswoman Karaline Shenk conceded "that almost never happens."
"Really, it is not in UNESCO's hands," she said. "It's the responsibility of Cologne."
Progress versus preservation?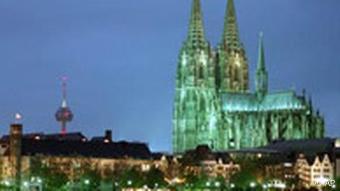 Cologne's most famous landmark dominates the night sky
The city has no plans to stop construction of the new buildings, which are going up in an area that has long been targeted for urban renewal. Nor does the city have any plans to detract from its most treasured landmark.
Even before the cathedral was named a World Heritage site in 1996, the city had passed zoning laws allowing only shorter buildings nearby to preserve the view of the "Dom," as it's known by locals.
"Every Cologner would give his last shirt to protect it," said city spokesman Ulrich Hoever.