Los Angeles-based Funke is often described as the German equivalent of JK Rowling, the author of the Harry Potter series.
And like Rowling, she has hooked huge numbers of adult readers worldwide along with the children and teens who relish the magic worlds of her novels.
Funke's smash-hit fantasies have sold 15 million copies worldwide and are showing no signs of slowing down. The upcoming release of "Inkheart" in cinemas looks set to mark a shift in the 49-year-old's status from big to mega.
It took a while for the German literary world to begin taking Funke seriously, but her books -- she has now written more than 50 -- are increasingly being discussed on high-brow book-review pages and in literary circles.
Indeed anyone who enjoyed the Harry Potter or Narnia series is likely to be a pushover for "Inkheart," in which Mo Folchart, played by US actor Brendan Fraser, unwittingly conjures literary villains into real life.
To fight the evildoer Capricorn Mo must travel the world with his daughter Meggie, played by young British actress Eliza Hope Bennett, who develops the same strange power as her father. His eccentric sister Elinor is played by British actress Helen Mirren.
The cast is expected in Berlin for the world premiere Tuesday evening at the plush Potsdamer Platz cinema, home of the Berlin Film Festival.
The opening should serve as the perfect birthday present for Funke, who turns 50 the next day.
Brendan Fraser plays the lead role
Earnest beginnings
Funke started out as a kindergarten teacher and illustrator for children's books in the German city of Hamburg before her writing career took off. Three years ago she moved to the US with her two children and her late husband.
Although she lives these days with daughter Anna, 18, and son Ben, 14, in Los Angeles, Funke continues to write all her books in her mother tongue German. "Inkheart" and its sequels were translated into English by Anthea Bell.
Knowing all too well how awry film adaptations of popular novels can be, Funke insisted on keeping close control of the $60-million film project in her role as co-producer.
Unlike many authors who fear money and celebrity will sully their talents, Funke said she was accustomed to working with filmmakers and that many of her books had already been adapted for television and the big screen in her native Germany.
One desire she was keen on fulfilling for the "Inkheart" film was to see Brendan Fraser play Mo, something she said she had decided on before the book was first published in 2003.
Funke concedes however that a lot of the detail in the book has vanished from director Iain Softley's final product, which attempts to boil down 550-plus pages of action and drama into less than two hours of screen time.
Film for all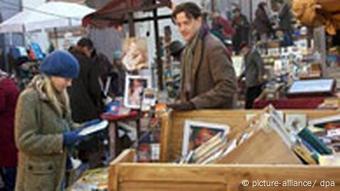 Funke envisioned Fraser playing Mo when she was writing 'Inkheart'
Funke's books have created much fanfare over the years and the upcoming film is sure to appeal to audiences of all ages.
Adult can delight in the complex dialogue and try fiercely to pick out historical figures such as Adolf Hitler among the plot's villains.
Youthful viewers of the film will enjoy the story's action and magic, which have been enhanced using computer-generated effects. One such CG scene shows a desert sandstorm morphing into flesh and blood.
Younger children meanwhile can hold their breath, just hoping good will win out over evil.
When and where?
"Inkheart" is to be released first in Germany with public screenings from Thursday, Dec. 11, followed by Britain on Friday and Italy on Jan. 9. Viewers in the United States will not see the New Line Cinema production till Jan. 23 next year.
Much of the film, which was delayed more than eight months by a writer's strike and marketing hesitations, was shot at Shepperton Studios near London.
There are further film prospects for Funke's Inkworld series, with sequels "Inkspell" and "Inkdeath" also open for film adaptation.