Tired of the headache, this year, 21-year-old Ye Tao decided to do something radically different. From Guangzhou in southern China, where he is studying, to his home town of Zhanjiang - 600 kilometers (400 miles) away - he opted instead to ride his bike.
It took him five days in the saddle to cover the distance, but that was preferable to taking an overcrowded bus or train. "I used to take the train, but this time of year they are just unbearably full - hordes of people everywhere. If you want to go to the restroom, you have to stand in line for hours," says Tao.
The world's largest mass migration is underway again. The Spring Festival, or Chinese New Year, is the high time of year when everybody travels home to see family and friends. For China's public transportation system and the people who work for it, however, it is a recurring nightmare.
Mass migration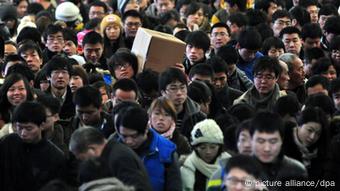 Tens of millions of Chinese go home for the News Year's festival
Transportation planners expect some 3.4 billion individual trips this year between January 26 and March 7, with February 9 the worst day - New Year's Eve in the Chinese calendar. It is a tradition that large Chinese families from the far corners of the country, and even abroad, come home for a big festive dinner and fireworks at midnight to ring in the New Year: this time, the Year of the Snake.
The huge migration of people has three major sources: some 236 million migrant workers, according to official statistics, who left their respective villages in search of work and a better life in the country's rich, eastern cities. Then, there are the students, like Ye Tao, who want to be home for the most important family gathering of the year. And finally, the tourists: millions of Chinese most of whom belong to China's new, rising and prosperous middle class, who get two weeks of vacation around this time of year and use it to travel at home and abroad.
Of course, enormous efforts are undertaken to significantly raise the transport capacity: official figures mention 2.6 million long-haul busses with a total of 78 million available seats. In addition, the national rail service provides some 5,300 long-distance trains every day, while airports have 10,000 planes in service each day.
New phenomenon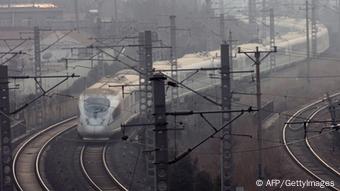 China's rail system is completely overloaded this time of year
But, even so, millions of migrant workers end up without tickets, despite standing in line for hours. Tickets are often sold out minutes after going on sale. Online bookings are sporadic because the servers crash due to heavy traffic. The gaps are filled on the black market, despite heavy fines for getting caught, but business is brisk.
This veritable tsunami of travel-hungry Chinese is a new phenomenon. Thirty years ago the term "New Year traffic" did not exist. The concept only found its way into China's mass media consciousness for the first time in 1986 when criticism arose about the unequal treatment of migrant workers. They were not allowed to have official residency in the big cities where they worked. They had to leave their families back home - not just the parents, but also the children - says economics professor Zhao Jian, from Jiaotong University in Beijing.
"If we can't solve the problem that every year hundreds of millions of Chinese need to travel home for New Year, it will keep our transportation system extraordinarily overloaded. The problem is urbanization," he notes.
China's urbanization is also proceeding at breakneck speed. For that reason alone, not much will improve the situation in the short term - and Ye Tao may find himself riding his bike home again next year.