Admiral Sun Jianguo, a deputy chief of staff of the Chinese People's Liberation Army, told a security summit in Singapore on Sunday that China's land reclamation work in the South China Sea was peaceful and legitimate.
"China has carried out construction on some islands and reefs in the South China Sea mainly for the purpose of improving the functions of the relevant islands and reefs, and the working and living conditions of personnel stationed there," he told the Shangri-La Dialogue forum.
"Apart from meeting the necessary defense needs, it is more geared to better perform China's international responsibilities and obligations regarding maritime search and rescue, disaster prevention and relief, maritime scientific research, meteorological observation, environmental protection, safety of navigation, fishery production, services," he added.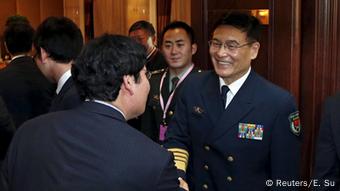 Sun (R.) said China had "indisputable claims" in the region
Sun also called on other countries to desist from "sowing discord" over the matter.
US concern
His comments come in the wake of US accusations that China is pursuing an expansionist policy in the region.
On Saturday, US Defense Secretary Ashton Carter told the forum that Beijing's behavior in the disputed waters was "out of step" with international norms.
Carter called for "an immediate and lasting halt to land reclamation by all claimants," singling out China as the country that had "gone much farther and much faster than any other."
He also said China's activities in the region raised the risk of "miscalculation or conflict."
'Sea of peace'
This claim was countered by Sun, who said that China was always mindful of "the larger interests of maritime security" and called on other countries to "work together in the same direction to build the South China Sea into a sea of peace, friendship and co-operation."
German Defense Minister Ursula von der Leyen, who also attended the conference, expressed concern about the situation in the South China Sea and called for closer security cooperation between the EU and Southeast Asia.
The Singapore summit was marred earlier on Sunday by a security lockdown after police shot dead a local motorist and arrested two men in a car that tried to crash through barricades around the venue before dawn. Police said the incident was unrelated to the conference and that the men had been carrying substances believed to be drugs.
tj/jil (Reuters, AFP)