Chilean President Sebastian Pinera met with German Chancellor Angela Merkel in Berlin on Friday on the final stop of his European tour that also included stops in Paris and London.
Pinera's international profile has been boosted by the dramatic rescue of 33 miners who had been trapped in a mine for almost two months. Live TV pictures were beamed around the world showing the president congratulating each miner as he was rescued.
In an interview with Deutsche Welle, he talked about his vision for eradicating poverty in Chile and creating a new world order. He said both countries were committed to ensuring that multilateral organizations like the United Nations better represent the current political reality.
"We also share with Germany the view that we need to modernize the international economic and political order," Pinera told Deutsche Welle.
"The current system was created after World War II at Bretton Woods. But the world has changed. We need much more efficient and more powerful multilateral institutions to address the problems of the 21st century: global warming, environmental protection, terrorism, drug trafficking."
International media reported on Pinera's visit to Europe with a heightened sense of interest due to last week's rescue of the miners.
"A victory for humanity"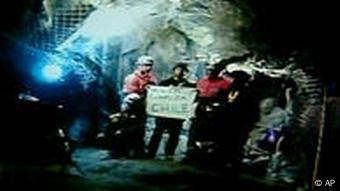 Thirty-three miners were trapped in the mine for almost two months
"This was really a victory of humanity, Merkel told Pinera in Berlin. "The whole world urged you on and shared your emotions."
The German chancellor presented Pinera with a signed football jersey from Bayern Munich striker Mario Gomez, who shares his name with one of the rescued miners.
In return Pinera gave Merkel a rock from the mine - as he had done in meetings earlier this week with British Prime Minister David Cameron and French President Nicolas Sarkozy.
The capsule used to rescue the miners may end up in Germany next year, as the German Mining Museum in Bochum hopes to acquire it for an exhibition.
Eradicating poverty
Aside from pledging to improve mining safety in his country, Pinera spent much of the week expressing his intention to make Chile the first country in Latin America to eradicate poverty
"In Latin America there are two major visions, Pinera told Deutsche Welle. "On the one hand there is the Cuban model with Castro, the Venezuelan with Chavez, the Nicaraguan with Ortega, with Correa, the Ecuadorian and Bolivian with Morales."
"They are trying out a particular form of democracy that is not the democracy, that we know in Germany and Chile. We believe in real democracy with the rule of law, political parties and press freedom. We believe in the free market economy, but we also believe that creating a more just society is an inescapable responsibility - with equal opportunities and free of poverty."
German Chancellor Merkel praised Pinera's "ambitious goals" in fighting poverty and promoting democatic values. He is to meet with German President Christian Wulff on Saturday before returning to Chile.
Author: Natalia von Dannenberg (ai)
Editor: Chuck Penfold