More than 500 boys and girls have been recruited as child soldiers, according to the World Vision international child aid organization. Hundreds of cases of sexual abuse have been reported. More then 55,000 internally displaced persons have reached Tshikapa, the biggest city in the Kasai region. DW spoke to World Vision spokesman Ekkehard Forberg about the volatile situation.
DW: We are seeing violent clashes and serious human rights violations in DRC, which has affected many children and youths. What state are these young people in when they reach the shelters?
Ekkehard Forberg: At the moment, we are seeing a very localized conflict involving a traditional leader that spilled into violent conflict last August. We have 1.3 million internally displaced persons who were driven from their homes in Kasai. At least 639 schools were destroyed during the conflict, more than 20 villages burned down, 150,000 pupils can't go to school anymore. We have heard reports about severe human rights violations. Indeed many children have been killed, or had limbs cut off. There is widespread desperation and a lack in humanitarian aid because access is very difficult.
What is World Vision doing to help?
World Vision is establishing its presence in Kasai, where we will focus on humanitarian aid with the help of partners. The security situation is very difficult at the moment. Last year, two observers with the United Nations were killed during their mission there. So we are trying to work through partners, trying to deliver aid into Kasai.
Who are your partners? Do you work with international NGOs and do you also have support from the local government?
We have the local church, which is a very important actor on the ground in Congo, and community faith-based organizations in those villages.
What is your main focus and approach when people are fleeing their homes?
The problem is that those who are fleeing the conflict are not gathered yet in camps. Otherwise, we could make concrete deliveries, including water and food. Now we have to bring that into Kasai. There are little makeshift camps and we are trying to establish so called child-friendly spaces where we take care of children, where people care for them and give psychological aid. They are given a space where they are free from conflict and where they feel safe. At the moment, the biggest problem is to reach out to the refugees, find them and bring food, water and sanitation to them.
As you mentioned, two UN observers were killed, so that must be very dangerous work. Do you take any security precautions?
Usually, we are present in the field in eastern Congo or southern Congo, we have offices and manage our programs from there. In Kasai - and that is why we are working through local partners - it is very difficult because it is very insecure. We try to have established organizations distribute the material that we deliver. We are not involved ourselves in the field. So we can reduce the security risk and still deliver humanitarian aid.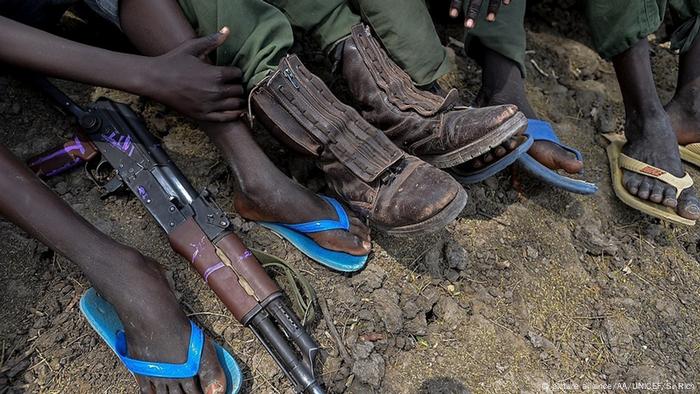 Child soldiers are forced to commit atrocious acts
What is lacking most of all?
What is most lacking is, of course, security.
If both parties - the government and the militias - would stop fighting, which is very brutal, we could get in and deliver needed material. We could directly access people who had to flee or rebuild their villages. But that is very difficult now, as is finding the people to organize access points for them, and protecting the children. They are on the move and they don't have a camp or a school where they feel safe.
Many schools were burned down, and the children no longer attend classes. What does it mean for the country and the kids to grow up in times of war and violence?
This localized conflict which has spread into other provinces shows that the DRC is very fragile. In such a context, children cannot go to school and will not have education. Without an education, the young people will not be able to rebuild their country, or participate in a democratic process to make their voices heard. Most importantly, these young people need an education. By 2050, we will see populations double all over Africa. Education is the key to save the future of Africa. You can see that in DRC, those children will lose their future."
Do you believe the conflict will continue to escalate?
At the moment, the conflict is still escalating, caused by the generally instable situation of politics in the Congo. If we had elections now, and international mediatory efforts, the situation might possibly improve. But both sides are fighting. Civilians, in particular children, are most affected, - not soldiers or militias. The children are fleeing and the biggest worry is that there is not protection for them.
What is needed at this point?
The sheer number of internally displaced persons, 1.3 million from this region alone, needs a huge international humanitarian response.
We are calling for funding for child-focused projects to help those who had to flee their villages. Other international organizations need to come to Kasai, too, and we desperately need an improvement in terms of the security situation. We need to see the agreed steps taken by the government last year in negotiations with the church. We need to see presidential elections and a stable political situation so that the local conflict does not spread and the rule of law is established again.
Interview: Martina Schwikowski
Ekkehard Forberg is a spokesperson for the World Vision aid organization