Before this week, a grand coalition between the Social Democrats and the conservative Christian Social Union and Christian Democratic Union was routinely rejected by bigwigs from all three parties. But after German voters proved too skittish to give either one of the country's major parties a majority to carry forth reforming the economy, many experts consider the grand coalition the only viable solution.
The big question whether Angela Merkel or Gerhard Schröder will lead it is the most debated issue in Germany at the moment. Whoever takes over might find that a coalition of Germany's biggest parties might not be the thing of horror most economic experts think it is.
Labor Market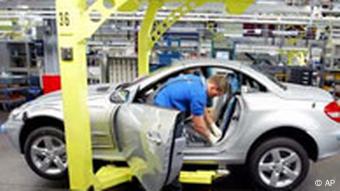 Union parties want the companies and unions to negotiate with one another
One of the key differences is job-protection measures that forbid companies larger than 10 employees from hiring and firing workers with ease. The Union parties want to lower the bar slightly, so that companies smaller than 20 employees would have the freedom to hire and fire for the first two years after they hire someone without meeting fierce resistance from Germany's still-powerful unions. If elected, the conservatives also want to allow wage contracts outside of the industry-wide negotiated standard if worker councils and two thirds of employees agree with their employers to such a deal. The SPD, though no longer the trade union party it once was, would still have a tough time agreeing to such a step.

The SPD is more flexible on corrections to the Hartz IV labor market reforms introduced as part of Schröder's reform program. Experts see the two parties close on issues such as further improvement of the still-ineffective Federal Employment Agency, and the tweaking of job creation measures that the Union considers ineffective. But the nationwide minimum wage, something the SPD has begun to advocate, might also be a source of heated discussion.
Health care
The SPD wants every health insurance company, regardless of whether it's private or state-run, to insure citizens, regardless of risk. The Union parties plan a similar nationwide program, also based on solidarity, but unlike the SPD model, don't vary its insurance fees based on a person's income. The Union parties would freeze the rate that an employer pays into Germany's public health funds, part of their overall goal of reducing extra wage costs. Because both proposals would involve more bureaucracy -- which none truly want -- experts think that both parties might be willing to abandon their plans for a compromise idea. Such a compromise might be the Union's call for a freeze on the amount of money an employer contributes.
Nursing care insurance and pension reform are also areas on which experts believe both parties can work towards a compromise.
Budget policy
None of the parties seem particularly motivated to implement cost-cutting measures -- like the free-market liberal Free Democratic Party would like to see it. Grand coalitions tend to solve their differences by spending more money, not cutting costs, anyway. The Union parties would like to see tax loopholes closed to fill state coffers severely strained by high public spending. In addition, Merkel has promised to raise the sales tax from 16 to 18 percent in order to lower non-wage labor costs, and cut taxes for both lower income and higher income earners. The plans run against promises made by the SPD not to raise the VAT, or consumption, tax. But their party program doesn't outright reject the notion, hence opening the way to possible compromise.
The two parties agree that both publicly and privately held firms should be taxed at the same rate.
Energy
The SPD is loath to cut coal subsidies: coal workers are some of their most steady voters
After working with the Green Party to introduce a phase-out of nuclear energy in Germany, the SPD could be persuaded to delay the process slightly in order to keep up with energy demands -- something the CDU would like. It'll be more difficult with the SPD's dogged commitment to subsidizing German coal power. The SPD's traditional voters are in Germany's coal and rust belt, in the west of the country, and eliminating the subsidies -- as the Union parties demand -- could provoke an identity crisis.
Both parties will have a tough time compromising on a clear, thought-out energy policy -- but other coalition constellations likely wouldn't do much better.
Foreign and Domestic Security
In the age of Islamic terrorism, SPD interior minister Otto Schily has proved to be far more hard-line than anyone had expected. His conservative anti-terrorism measures have been largely greeted by Union security experts, who wouldn't get the chance to do things much differently in a grand coalition -- with civil rights parties like the Greens and FDP checking them in the opposition.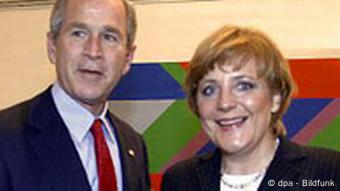 Warmer relations between Washington and Berlin should Merkel come to power
Turkey is the only major foreign policy question separating them. Schröder has advocated heavily for full membership of the largely Muslim nation in the European Union. Merkel has offered a "privileged partnership" which would keep Turkey at arm's length.
The relationship to the United States would largely depend on which person was chancellor: Schröder would maintain his cool cordiality towards Washington, Merkel would work to improve the tone of transatlantic relations, and would be far more welcome in the White House.