After parking in downtown Munich near the English Garden, the first sign of surfing was a discarded wrapper from a stick of Australian surfing wax. Just ahead, a couple of guys in black neoprene were jogging across the road, surf boards under their arms.
Ask any local in Munich and they'll tell you they've got great beer and, with the highest annual number of sunny days in the country, they're practically Germany's California.
The absence of the Pacific Ocean and Malibu Beach isn't holding locals like Rolf back from catching some waves.
"When you compare it to the ocean, everything happens much faster because you have to do radical turns, like 180 degrees in a few seconds. And the water comes out of the tunnel at five meters per hour, which is like 36 kilometers per hour, so it's not too slow," said Ralf.
The real thing -- almost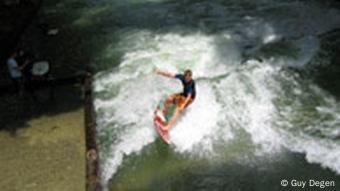 "It's easy, anyone could have a go at it," said Ralf
The tunnel Ralf mentioned is on the Eisbach, a tributary of the Isar River that flows through the middle of Munich. As the waters of the Eisbach emerge from an underground tunnel, they produce a small wave about 12 meters (39 feet) wide with a clean face -- almost as good as the real thing.
Only one person can surf at a time and, since it's not possible to paddle upriver to the crest of the wave, regulars have worked out a number of ways to catch it, said Rolf. Many sit on the riverbank, set their feet on the surfboard, stand up and slide down the face of the wave.
Others simply throw the board into the water and jump on.
Surfers come from near and far
Word on the Eisbach wave has spread and it now attracts more than just the locals -- like Adam Brown, an Australian surfing instructor from the east coast surf mecca of Byron Bay.
"It's quite fast and there's a hole in front of the wave, so it gives you the feeling of a much faster wave. It's got a lot of potential for a small wave," said Brown, who decided to check out the famed Munich wave on a recent visit.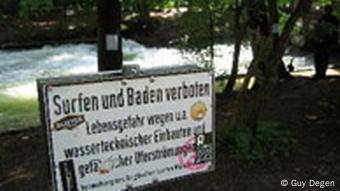 The warning sign remains unheeded
While surfing at Eisbach may be fun for tourists and locals, it's actually illegal. Not everyone seems to pay attention to the signs, though.
No surfing allowed
"We've refrained from fines to far, but it there is a serious accident it's going to become a problem," said Rainer Herzog, garden director for the Bavarian Palace, Garden and Lake Administration.
Nevertheless, on any given day at least a dozen surfers can be seen testing their skills on the Eisbach wave. And if you ask the right local, they might let you in on some other good surf spots nearby.
In fact, surfing is popular enough that a Munich company has started making producing special river boards.
Munich's city river wave may not be up there with Hawaii's Pipeline or Bells Beach in Australia, but for many land-locked surfers in Germany it's the next best thing.