The Organisation for Economic Co-operation and Development (OECD) reported this week that the world's market economies were recovering better from the global financial crisis than expected.
The overall prognosis in the OECD's 31 member countries is now growth of 2.7 percent this year and 2.8 percent in 2011. This is a marked improvement on the dark days of last November when the OECD expected growth to dawdle at 1.9 percent in 2010. In the succinct words of the report, "The tendential growth dynamic is intact."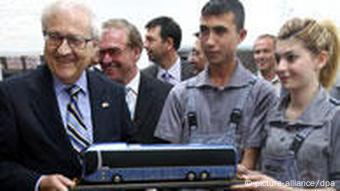 Economy Minister Rainer Bruederle is in Istanbul at the moment
The tendential growth dynamic seems to be even stronger in Turkey. The European Commission predicted a growth of 5 percent for Turkey this year and 4.5 percent in 2011 - the best figures in Europe. And other factors show that Turkey has shown the healthiest recovery signs of all the OECD countries: Turkish Minister-of-State Ali Babacan recently pointed out that his was the only OECD government that did not need to help its banks with state financing following the recent financial crisis.
This, it has to be said, is partly due to Turkey's own economic crisis of 2001, which led the Ankara government to impose what many consider the strictest market trading regulations in the world. Banks were barred from high-risk investments, a precautionary measure that the government is currently blessing.
Old partner, new interest
Germany, for its part, seems to be nurturing new interest in its old economic ally. Turkey was this year's partner country at the major ITB tourism trade fair in Berlin, and German Economy Minister Rainer Bruederle is currently on a trip to Turkey with delegates of some 20 mid-sized German companies to help foster new relationships. "I have high expectations of these talks," Bruederle said during his trip. "There is still substantial unused potential in the infrastructure and energy sectors, as well as in industrial cooperation."
Christian Dreger, head of the macroanalysis and forecasting department of the German Institute for Economic Research (DIW), agrees. "It's certainly true that Turkey has not really been acknowledged by German industry yet, compared to, say, Eastern Europe," he told Deutsche Welle. "There is definitely room to catch up, and I'm sure this is one of the main reasons for Bruederle's visit."
"Turkey was, of course, affected by the financial crisis like everyone else," Dreger continued. "The economy fell by about 5 percent in 2009, but it has recovered very well."
CeBIT partnership
All this has whet Germany's appetite for greater investment and economic partnership. As if to underline the significance of Bruederle's visit, the world's biggest information technology tradeshow CeBIT, staged in Hanover every year, announced this week that Turkey would be its partner nation in 2011, giving Turkish IT companies a new platform.
Trade show organizers Messe AG, which also runs an annual IT trade fair in Turkey, and the German Federal Association for Information Technology (BITKOM), announced a partnership with the Turkish chamber of commerce, and hailed the expanding IT market in Turkey, predicting an 8 percent growth in the sector this year.

Turkey will be CeBIT's partner country in 2011
Hartwig von Sass, spokesman for CeBIT, explained the process by which Turkey was chosen. "There was a survey of a variety of factors - business potential, market potential, import/export rates - and Turkey was right up there on our list," he said. "And we soon encountered a lot of interest from Turkey. We saw eye to eye pretty quickly."
The elephant in the room - EU entry
There are now 4,000 companies in Turkey that have some German investment, mainly selling cars or car-parts, machinery and electrical equipment. And Germany, for its part, is buying more and more Turkish clothes, textiles and cars.
But this talk of mutual benefit obscures the fact that Turkey is more reliant on Germany than vice versa. "As far as exports go, Turkey is, of course, not as important to Germany as Germany is to Turkey," Dreger said. "Around two-thirds of German exports go to the EU, the US accounts for another 10 percent, followed by China - after that comes Turkey."
Nor can these promising new signs of economic partnership necessarily oil the wheels of Turkey's tortuous application for entry into the EU. Von Sass was careful not to portray the CeBIT partnership as some kind of catalyst in national negotiations. "Of course, other factors, like the political relationship, play their part, but the question of EU application and entry is irrelevant," he said.
Dreger also played down the chances of accelerating Turkey's application process. Even with so many economic factors in its favor, Turkey's economy is still all about future potential, and many economic circumstances still stand in the way, not least inflation and unemployment - as many as one in four young Turks are currently out of a job.
"Of course, this is as much a political question as anything - Turkey's relationship to the EU is constantly wavering between privileged partnership and membership," Dreger said. "Turkey is in a very good position economically - there is high growth. But on the other hand, average living standards in Turkey are still well below the EU average."
Author: Ben Knight
Editor: John Blau