"When condemning crimes, it is of decisive importance not to distinguish between innocent victims according to their nationality or faith. The Serbian government strongly condemns all war crimes committed during the civil war in the former Yugoslavia."
In this recent statement, Belgrade did not single out the Srebrenica massacre as the worst war crime committed on European soil since the end of World War II as many had hoped. Instead, it called it a "serious crime" along with atrocities against ethnic Serbs during the war.
It's a sign that the Balkan country is still struggling to come to terms with its past despite recent signs that the war's worst criminals might finally be brought to justice.
US officials recently voiced their conviction that Ratko Mladic, the wartime commander of the Bosnian Serb army, would spend the anniversary in prison awaiting trial before the International War Crimes Tribunal in The Hague. Mladic and Bosnian Serb leader Radovan Karadzic have evaded arrest for a decade.
Changing public opinion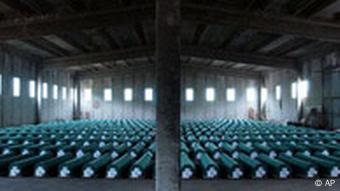 Identified bodies of 335 victims of Srebrenica massacre displayed in an abandoned hall near Srebrenica, on July 10, 2004.
The recent broadcast of a graphic video showing Serb paramilitaries killing Muslims on Serbian television also led to a change in opinion among the population: In a survey, a majority backed the extradition of war criminals for the first time.
Arresting Karadzic and Mladic is crucial for Serbia's future and possible EU membership, according to observers in Germany, where about 700,000 Serbs make up the second largest group of immigrants, behind Turks.
"Serbia has extradited some war criminals to The Hague, but not the two most important ones," said Milan Kosanovic, who teaches Eastern European history at the University of Bonn and runs a foundation that aims to strengthen scientific and cultural ties between Germany and Serbia.
"That's the real problem," he said, adding that the failure to send Karadzic and Mladic to The Hague was symptomatic of Serbia's split view of the war.
A need for testimony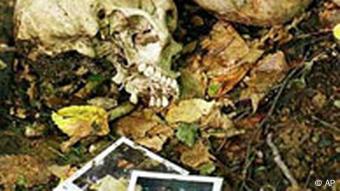 A view of two skulls with family pictures next to them, some of the dozens found by The Expert Commission for POW's and Missing Persons near Srebrenica.
"Many people say they didn't know what was happening -- despite the proof, despite the mass graves, despite the thousands of witnesses who survived," said Bosiljka Schedlich, a Croatian who runs a Berlin organization that promotes dialogue between different ethnic groups in the Balkans.
"It would be a very important thing for the Serbs to have these men testify what they did," Schedlich said, adding that the current situation in Serbia is similar to the situation in Germany a decade after World War II.
"People still have to find themselves, but unlike in postwar Germany, it's not clear where things are going," she said. "A united Europe is the only thing that can be offered to the people there. It's the light at the end of the tunnel."
Setting examples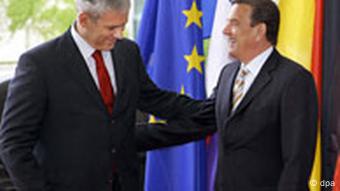 Tadic (left) with German Chancellor Gerhard Schröder in May
Others pointed to Serbian leaders' willingness to take more responsibility as witnessed by Serbian President Boris Tadic's decision to attend Monday's ceremony in Srebrenica.
"It's important to set an example: 'We're ready to admit our guilt irrespective of what the other side does,'" said Dusan Vasiljevic, a dentist in northwestern Germany who heads the German branch of Tadic's Democratic Party and served as an advisor to Serbian Prime Minister Vojislav Kostunica during his time as Yugoslav president.
But when asked about the importance of the arrests of Karadzic and Mladic for Serbia's future, Vasiljevic said there was a difference between the two men.
"Karadzic is not a Serbian problem, he's a Bosnian problem," he said, adding that the former psychologist and poet is not a citizen of Serbia and Montenegro. "Mladic has both citizenships and Kostunica has clearly said that he should be in prison by September. I'm convinced that President Tadic also wants that."