DW: Mr. Manhart, could you describe the current condition of the World Heritage sites in Kathmandu?
Christian Manhart: They have been dramatically damaged. In the historic center, many houses have been totally destroyed, especially the temples and palaces. I'd say that 60% of the seven World Heritage sites in the Kathmandu valley has been destroyed.
Do these sites still have the UNESCO World Heritage status? After all, they no longer exist in their original form.
They definitely still carry that status. The only institution enabled to decide to take them off the list is the World Heritage Committee, whose next meeting is in Bonn at the end of June. But I don't believe they would take these sites off the list. Parts of them still do exist, sculptures, for example. And there's a good chance that the temples can be reconstructed. Removing them from the list would send the wrong message to the Nepalese people.
What is the significance of the temples for the Nepalese?
I arrived here in Nepal eight months ago and I'm really amazed by how much this cultural tradition [editor's note: of Buddhism] is still practiced by the population. There is absolutely no folkloristic element to it: This culture and religion are deeply rooted in society. Each family worships its own god. Most people visit the temple at least once a day to offer gifts, food for example. If this material expression of culture and tradition is lost, then there is a great risk that its immaterial elements also disappear.
Do people appreciate your efforts to preserve their culture, or do you get judged for caring more about buildings than people? After all, thousands of people have died, and millions were affected by the quake.
So far, I did not get that impression from the people. On the contrary, they are grateful that someone is trying to take care of their monuments because they are so attached to them. Moreover, the World Heritage sites as well as other temples are a major attraction for tourists, and tourism is one of the main sources of income in Nepal. It is very important to maintain the potential of cultural tourism here through reconstruction.
What is UNESCO's plan of action to save the World Heritage sites in Nepal?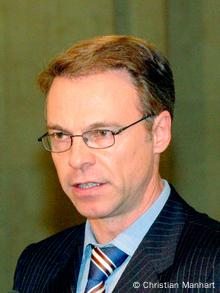 Christian Manhart, head of Nepalese department of UNESCO in Kathmandu
We are still in the stage of surveying the sites. This has already been done very well in Kathmandu. Now our teams are going out to the villages outside the city to determine the damage there and propose ways to temporarily strengthen the monuments. Some of them are still standing, but have been severely damaged and could collapse at any time. The second phase will therefore be to solidify these monuments. The actual restoration work will then take place in the third phase.
How much money will be needed for the reconstruction?
So far, we cannot supply any exact figures, but it is quite likely that it will cost hundreds of millions, but it might as well be just 50 million, it is relatively hard to tell. But one thing we do know is that the sculptures and the carved wooden beams are in relatively good condition, which means they can be reused. Actually only the brick walls need to be completely rebuilt. We have detailed photographs, architectural plans and surveys which will help us in the reconstruction process. It might also be possible to rebuild not only the temples, but also the historic houses in Kathmandu, Katan or in Bhaktapur.
The United Nations have accused various organizations in Nepal of not working together after the earthquake. Are you concerned a similar competition among aid organizations in the cultural field could slow down your efforts too?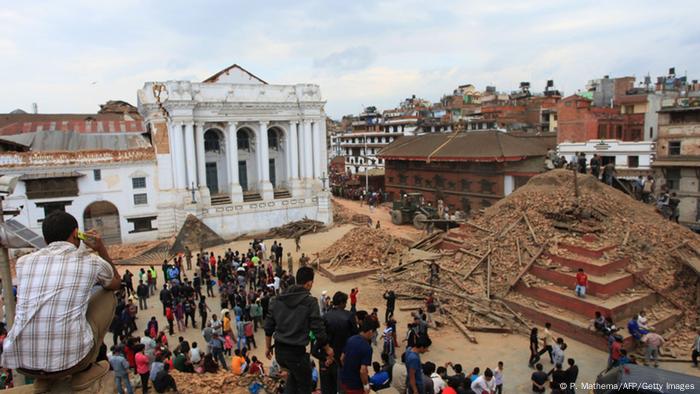 World Heritage site: Durbar Square in Kathmandu
We have a formal mandate from the Nepalese monument protection authority. However, one problem it is that the field of responsibilities of the different Nepalese authorities is not always clearly defined. We are trying to coordinate our efforts now, but that is very difficult at times. Recently, local authorities in Bhaktapur would not allow us to work, even though we were accompanied by two officials of the Nepalese monument protection authority. The American Global Heritage Fund has arrived in Nepal with five drones which could be used to make very accurate aerial surveys of the sites, especially those in areas which are not accessible by car or by foot. They've been here for five days and still haven't received an authorization to use the drones. It's frustrating when help is offered and not being accepted for bureaucratic reasons.
Do volunteers actually contact you offering their help, saying they want to do something, as is the case with many humanitarian aid organizations?
Tons of people do. I receive so many inquiries that I cannot even respond to them all. Actually, we can't coordinate all these people who would want to come from abroad. We already have several teams on the ground, for example students from the Engineering Institute of the Nepalese University who are working together with their professors. We have an Italian team which already worked in L'Aquila after the earthquake there - we cannot really coordinate more teams.
What about the risks of everything being destroyed again by the next earthquake? Is it possible to build quake-resistant temples in this country so affected by seismic activity?
Actually, the buildings were quite stable: The traditional Nepalese construction style using bricks and wood allowed the buildings to sway during quakes. Seismic waves tend to be horizontal. There might have been vertical waves at the beginning of this earthquake. And that's what made it so particularly disastrous. We have seen that buildings strengthened by concrete did not collapse as much as those built in the traditional style with bricks and wood. But we still have to carefully analyze all this. We hope that we will be able to construct the buildings in such a way that they can withstand the next quake. There will certainly be another big earthquake in Nepal in the future.
Christian Manhart is head of the Nepalese section of UNESCO in Kathmandu.