Cameroon's Protestant, Baptist and Catholic churches are calling on the government to shut down some of the country's Pentecostal churches after reports of unethical and criminal behavior by several pastors. It is alleged that one Pentecostal pastor impregnated seven women in his congregation. Another pastor, now wanted by Interpol, is believed to have fled Cameroon after embezzling more than $500,000 (€407,300) from his followers.
Concerns over the Pentecostal church and its methods are not new in Cameroon. Back in August 2013, President Paul Biya ordered over 100 churches to be closed on the grounds of criminal practices organized by Pentecostal pastors. It was alleged that pastors were taking advantage of poor and desperate people. Despite a government crackdown, and the fact that no new churches have been approved by Cameroonian authorities since then, unauthorized churches have continued to spring up.
Fastest growing branch of Christianity
According to the Pulitzer Center's research on Pentecostalism, it is the fastest-growing religion in the world and one quarter of the world's two billion Christians now belong to this Christian denomination. And nowhere is it growing faster than in sub-Saharan Africa.
"Pentecostal Christians emphasize a direct personal experience of God and believe that the Holy Spirit acts here and now to bring inspiration, health and wealth to believers," the Pulitzer Center reports. For many in sub-Saharan Africa who may be struggling with poverty, HIV, or unemployment, the church's promises prove difficult to resist.
Anthropologist and professor Asonzeh Ukan has written extensively about the Pentecostal church in neighboring Nigeria, where it is known as the Redeemed Church. He described the lure of this kind of preaching: "The primary function of Redeemed is an industry that markets hope… In every society, there are people that need to be encouraged to stay alive for the next day. Redeemed does that."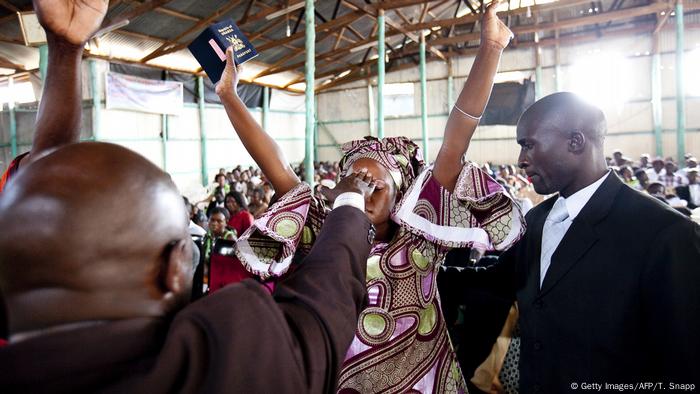 Pentecostalism is also very popular in Uganda
Victims of the church
At the Catholic cathedral in Cameroon's capital Yaounde, the congregation is welcoming back Dufe Clarisse, who is returning to Catholicism after a year as a member of Yaounde's Pentecostal church, God's Mercy. She was introduced to Pentecostalism by a friend, who said that the Nigerian pastor at God's Mercy had prayed for her, which had resulted in her getting a job.
But Clarisse's experience as a Pentecostalist was far from positive and she is now four months pregnant by the pastor. "The pastor kept on insisting that the only way I would have a breakthrough in my life was to be with him. He said God had told him that when we sleep [together] for nine days in three weeks, I will have a husband, wealth and then travel to Europe. He asked me not to tell anyone until the prophecy came to pass. Since I was in need, I trusted him. He even said that God had revealed to him that I was to be his wife and that we were to set up a ministry in Frankfurt, Germany."
Clarisse decided to break her silence and told other church members that she was pregnant. Three married women, and two girls, who were sisters, said they had had the same experience.
"It was only after the incident that we discovered he was telling every lady the same story. But most of his victims were married women in search of babies. He said that they would only have their breakthrough in his bed as revealed by God to him. I am sure that that man had some magical powers. No one knows where he is now," Clarisse said.
Other countries are taking action
Last month in Rwanda, the government closed over 700 churches, mostly Pentecostal, on the grounds that they were unhygienic, unsafe and disturbing the public peace. Many pastors had taken to preaching through megaphones. But Phil Clark, from SOAS, University of London, believes that there were other reasons behind the closures as well.
"Pentecostalism is growing exponentially there," Clark told DW. "The church closures are much more politically influenced than the government says. It signals to the churches that they are under observation, just like other social organizations in Rwanda. I take that as a clear warning."
With three other Christian denominations in Cameroon now issuing a similar warning, it remains to be seen whether the government of President Biya will launch a new crackdown on Pentecostalism in the country.
Friederike Müller-Jung and Chloe Lyneham contributed to this article.