Hardly a day goes by in Cameroon without reports of an armed robbery or pirate attacks off the coast. Residents in Yaounde, the capital, say the region's rising crime rate is making them more and more afraid to go about their everyday lives. Violent crime has gone up 22 percent in the last 10 years according to authorities.
And yet, in 2011 a potential solution was in sight. The Economic Community of Central African States had approved a gun control treaty for small firearms, commonly known as the Kinshasa Convention.
To date, however, only four of the 11 members of the group have enacted the treaty.
Signed but not ratified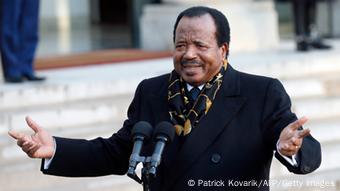 President Paul Biya's government says it wants to reduce gun crime in Cameroon, but is moving slowly
The Cameroon Youths and Students Forum is one of the groups pushing the government to finally enact the Kinshasa Convention into law. The situation on Cameroon's streets is critical, said Eugene Ngalim, 41, the peace organization's coordinator.
"As well as arms that are being produced locally, the armed robbers in our streets are also using the very same guns that previously belonged to the military," Ngalim told DW.
One reason for Cameroon's problems with violence is unrest in neighboring countries, such as Nigeria, he added.
"Cameroon is surrounded by these countries that are always at war, it's a serious security issue," Ngalim said. "Most of those weapons end up in the hands of people that are not supposed to be in possession of these arms."
An Africa-wide issue
But the proliferation of guns into mainstream society due to nearby conflict is not just a Central African issue, say experts.
"Small arms have been a big challenge to the continent because they've been used to fight wars here and there," said Dan Ossano of the Kenya-based Regional Center on Small Arms. "There's been the example of the eastern DRC and the weapons moving from Libya into the sub-Saharan part of the continent. It is serious."
The problem is fuelled not only by the conflict zones, but also by low prices, Ossano said. A Kalashnikov machine gun, for instance, can be bought for around $50 (40 euros).
Responsibility also lays with firearms manufacturers, according to Angela Baiya-Wadeyua, one of Ossano's colleagues. She says it's tough to draw attention to the issue though, especially given the large amounts of money being made by gun-producing nations.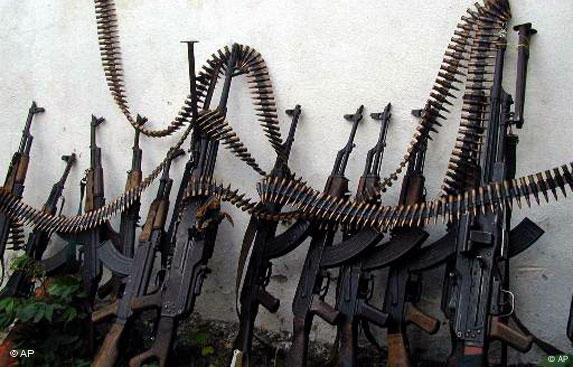 Kalashnikov assault rifles sell for as little as $50 on the street in Cameroon
"It's not easy to tell them to reduce their production," Baiya-Wadeyua told DW. "What we are doing is calling on them to be responsible. They should make sure that the countries they are selling to are not passing these arms to rebel groups and militias," she said.
Positive developments
Meanwhile, Cameroon's parliament has approved a new law to reduce the proliferation of weapons. It requires the government to set up a national commission on small arms and light weapons with members appointed from government departments, civil society and parliament. It also will have to put in place a national plan to implement the Kinshasa Convention.
Once implemented, the Cameroonians hope the new law will start to change the situation on the ground. Until that happens, armed gangs, burglars, and pirates will continue to use small arms and light weapons to wreak havoc on the lives of ordinary people.